Death Cab For Cutie performs at the inaugural Firefly Music Festival in Dover, DE on Sunday (Photo: Frank Wilson / REVAMP.com).
All photographs by Frank Wilson for REVAMP.com.
DOVER, Del. --
Thousands battled traffic to the
Firefly Festival
, hailed as the East Coast's premier music experience. With headliners
The Black Keys
,
Jack White
, and
The Killers
, along with
John Legend
,
Death Cab
,
Lupe
, and many others who have recently sold out their own shows in the Mid Atlantic, the show offered a lineup that drew an estimated crowd of 30,000. And the traffic woes were not limited just to fans, with the band
Graffiti6
tweeting about its 4:30pm set: "So we've gone 6 miles in 2 hours. Will we make it?"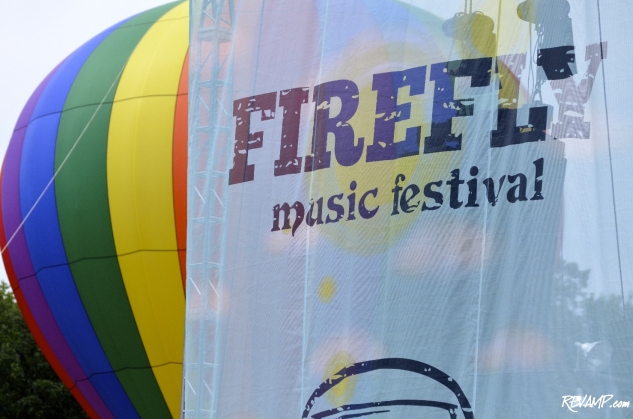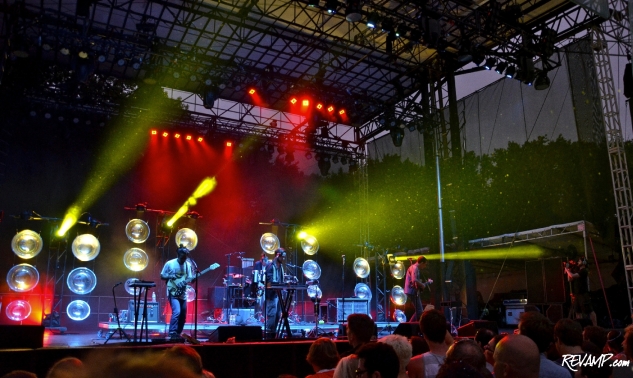 Yeasayer.
Everyone did make it though, except for
Passion Pit
, due to front man Michael Angelakos' health problems. Most artists seemed to be making their first trip to the nation's first state, and told the fans as much, except
Yeasayer
(who filled in for Passion Pit). Yeasayer main man
Chris Keating
told the crowd in a Kenny Power-esqe shout out to Maryland, that he he used to spend his summers at the Delaware beaches. They then went on to give a performance that was arguably the best of the weekend.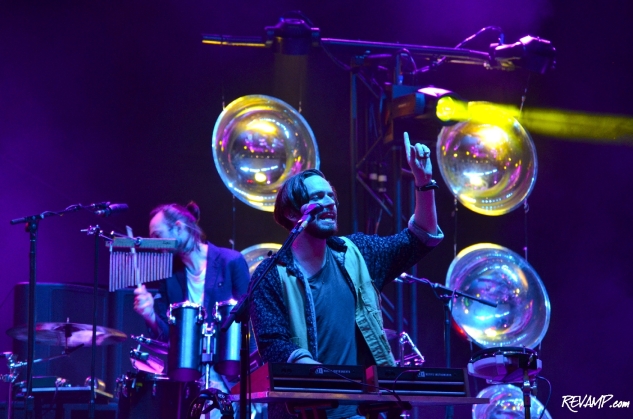 Yeasayer.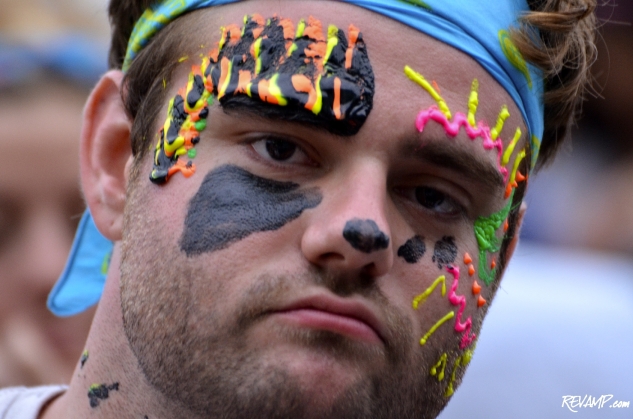 One of the few performances lead by a woman was also one of the most highly praised acts of the weekend.
Grouplove
's rendition of "Tongue Tied", mashed with Whitney Houston's "I Wanna Dance With Somebody", left everyone tied in dance.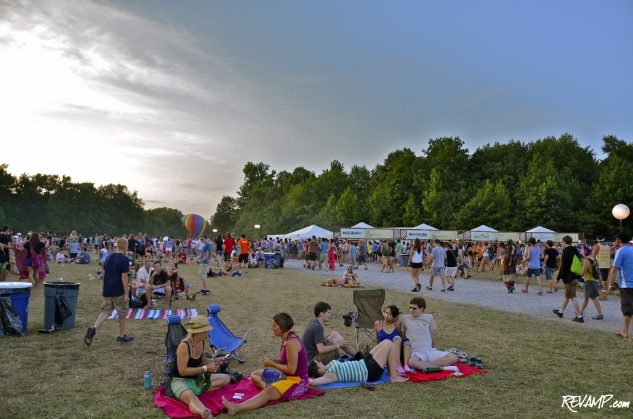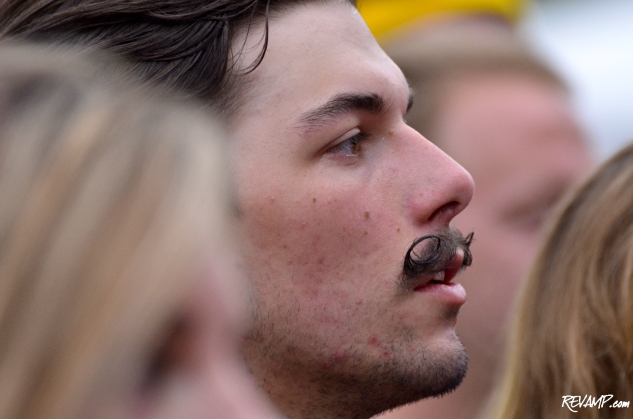 Cake
's John McCrea looked like the unibomber in a Fidel Castro uniform. In front of a crowd wielding a six-foot banana, he told them: "Even if you forget to post this to Facebook, this is real." They breezed through most of the classic Cake tracks, "Short Skirt, Long Jacket" and pushed out a frenzied "The Distance" as the finale. McCrea also took time out of his set to address the shooting last week in Colorado.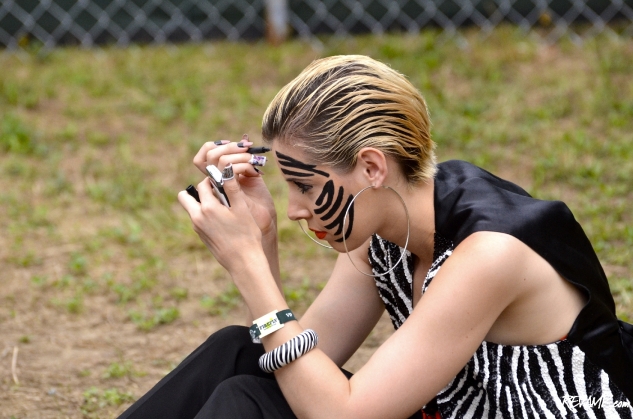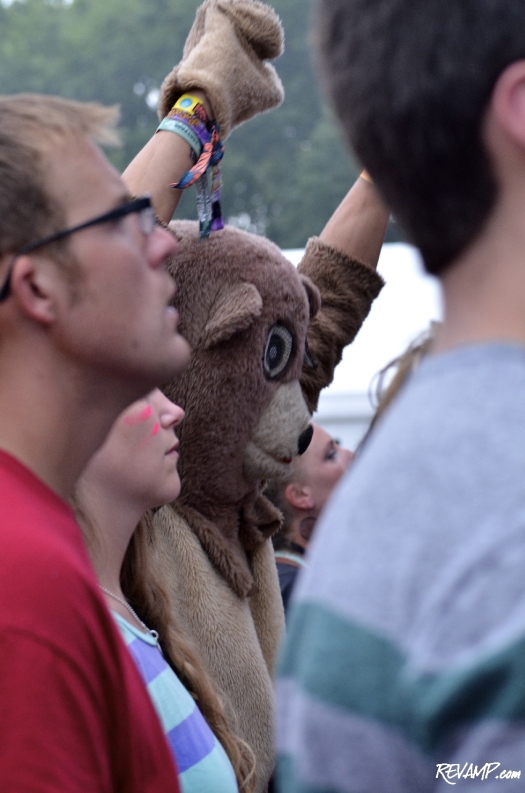 Perhaps somewhat tellingly, an old man was seen vomiting from his chair, as people made their way to see the
Modest Mouse
set. They seemed to lack enthusiasm during the performance; a young audience set on hearing "Float On" has been known to irritate Isaac Brock. And the crowd was chalk full of youngsters…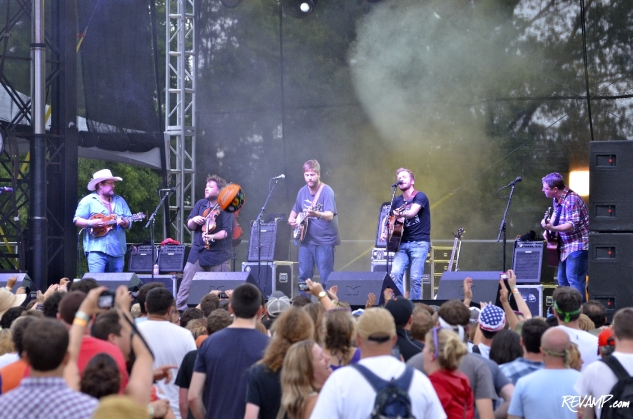 Trampled By Turtles.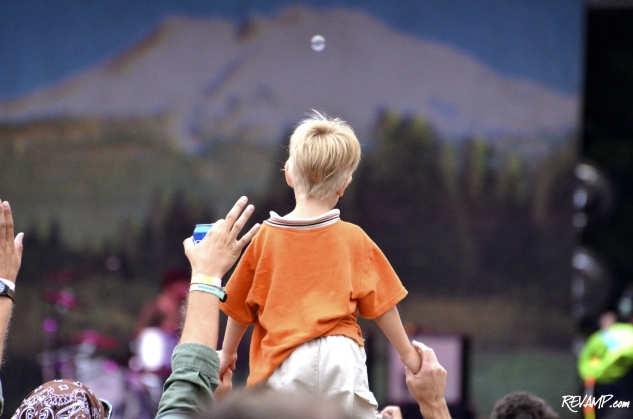 The five former punk rockers turned bluegrassers from Duluth,
Trampled By Turtles
, played another brilliant set. It's easy to see why
Paste
magazine named them one of the best live acts of 2011. Before they began, the group had the patience and friendliness to sign autographs. And they ended their set with a road runner-paced "Wait So Long."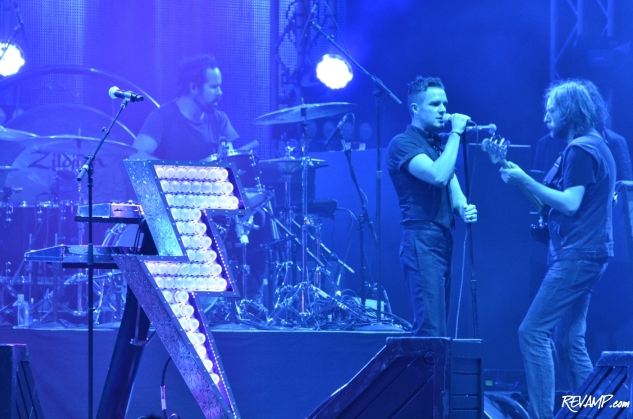 The Killers.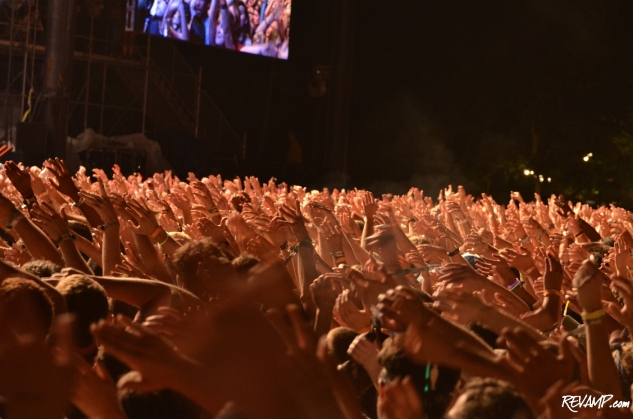 The Killers
closed out Saturday with a set painted with lasers and fireworks. Indeed, Brandon Flowers was so energetic that he ripped his pants. "Mr. Brightside" and "When Your Were Young" connected to the crowd's engine like jumper cables and sent it speeding into dance grooves. Flowers commented on the crowd's energy: "Delaware, who would have thought?"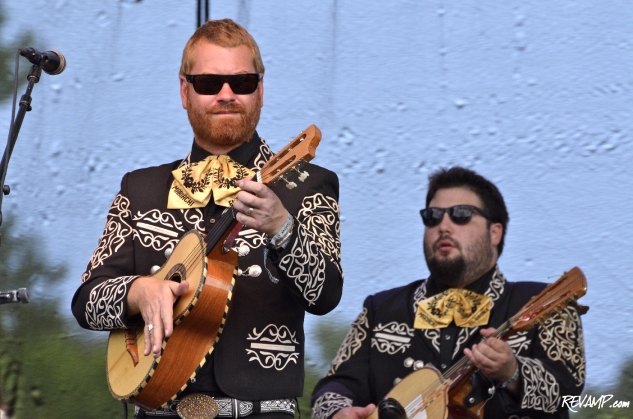 Mariachi El Bronx.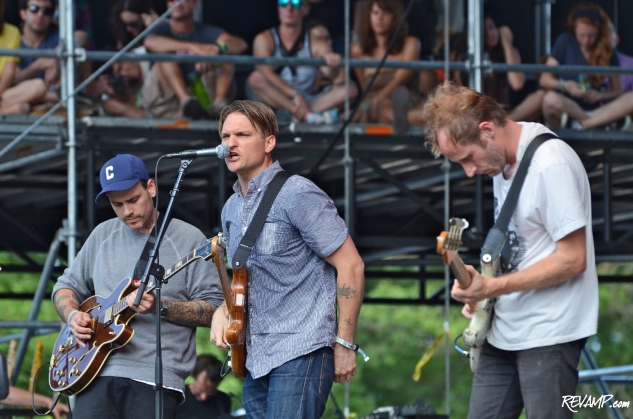 Cold War Kids.
A rainy and overcast Saturday was followed by a much warmer and intermittently sunny Sunday. The members of
Mariachi El Bronx
-- looking like a mariachi band you don't want to run into in a dark alley -- seemed to be the happiest band of the weekend, reveling in the fact that something they started according to Matt Caughthran, as a "fuck you" to music world, has caught on.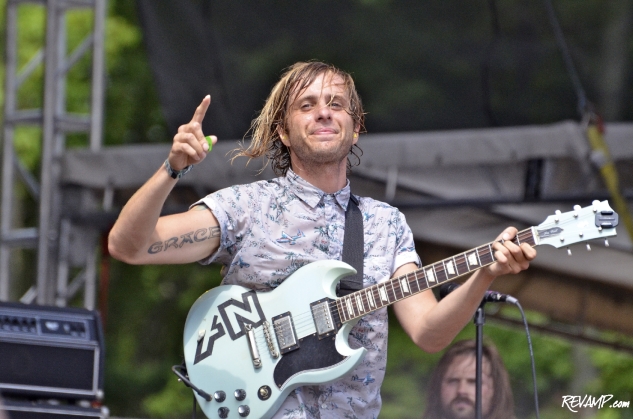 AWOLNATION.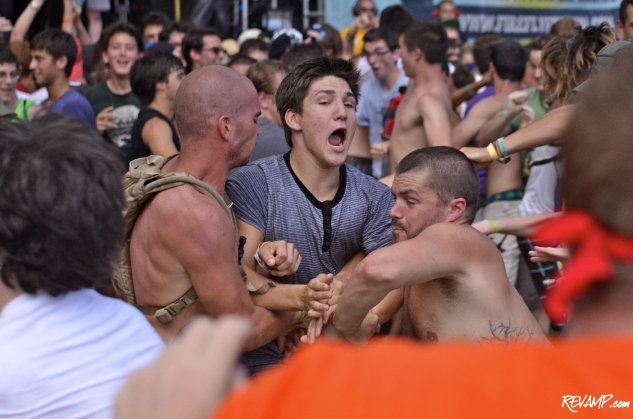 AWOLNATION
's set concluded with a rough and tumble mosh pit that Aaron Bruno encouraged. The crowd was like baby birds as they chirped and focused on everything that came out of the mother bird's mouth. Aaron and Co. whipped the crowd into a spastic, unpredictable tornado of the id, in what was easily the wildest crowd of Firefly.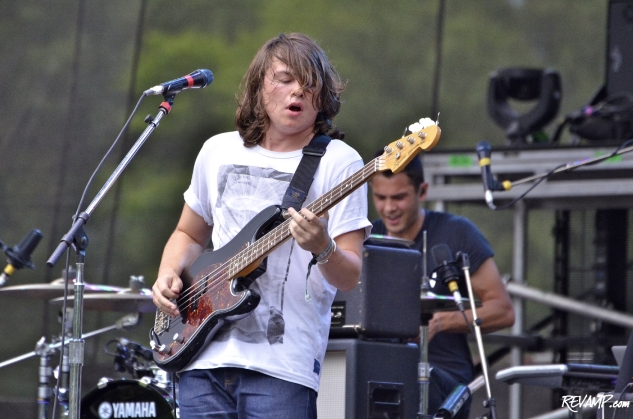 Bombay Bicycle Club.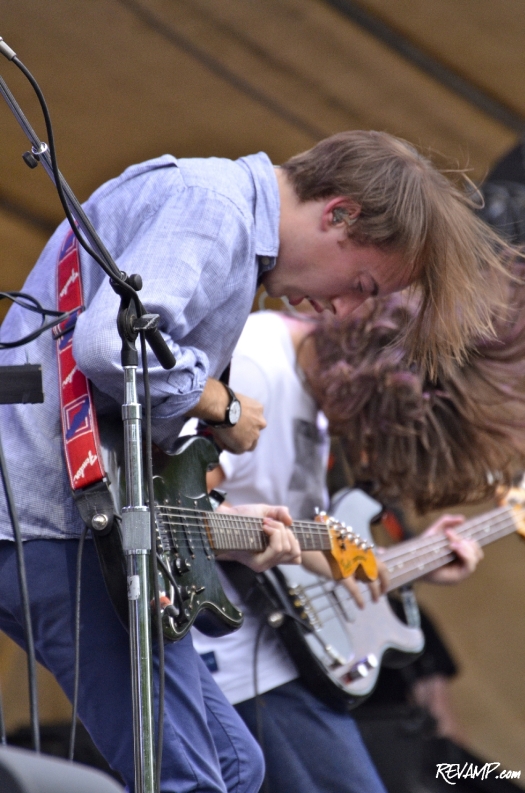 Bombay Bicycle Club.
The British group
Bombay Bicycle Club
had the best gingers of the lineup, featuring not one, but two (Amber Wilson and Jamie MacColl). An up and coming British band, they opened a lot of ears in switching tempos between an electronic rock and a much softer folksy sound. And in the best impromptu assist during a solo, lead singer Jack Steadman retrieved a snare that had broken loose from drummer Suren de Saram's set and held it while the Suren completed the solo.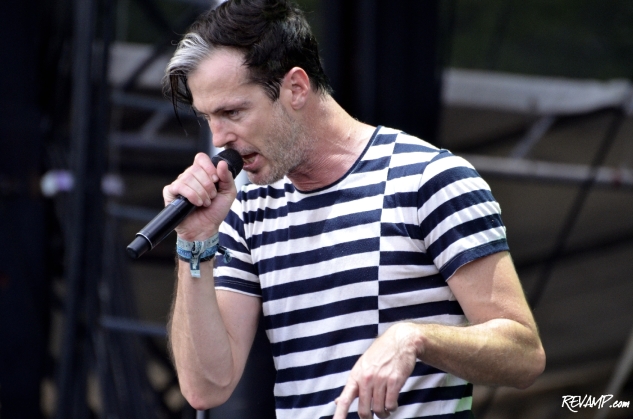 Fitz and the Tantrums.
Fitz and the Tantrums
did what they do best. And that's "motherfuckin get down," according to Michael Fitzpatrick. Fitzpatrick got his butt groped by vocalist Noelle Scaggs in a steamy interlude. He leaned on James King as he played sax, almost ripped apart John Wicks' drum set, leapt on Jeremy Ruzumna and pounded away on the keyboards with him, and then went stage diving over a four-foot gap safely into the crowds' outstretched arms, during a cover of the Eurithmyics "Sweet Dreams (Are Made Of This)."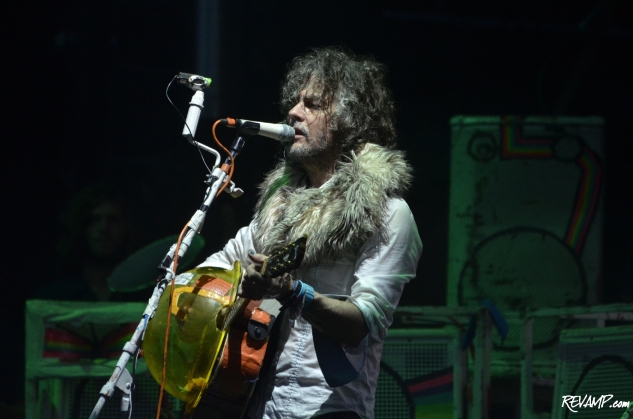 The Flaming Lips.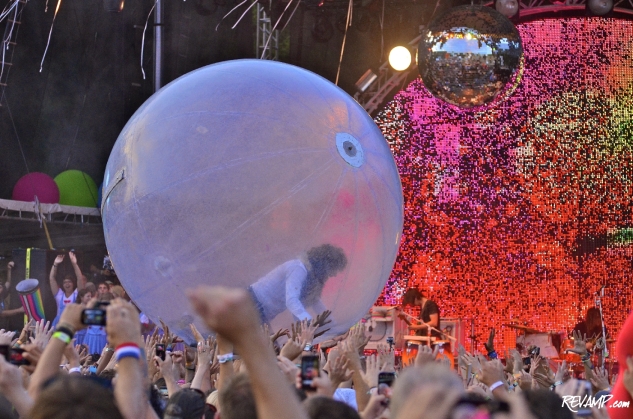 The Flaming Lips.
In a trailer that must look like an FAO Schwartz stock room,
The Flaming Lips
brought all their props. Balloons, balls, neon ticker tape, smoke cannons, a movie screen, disco ball, human hamster ball, and a megaphone-that-blows-blue-dust filled the sensory overload that is a Flaming Lips show. The only thing they didn't bring was twenty-something girls to dance on stage in nurses costumes. But fret not, they recruited throughout the day and had those as well in short order. Wayne Coyne even gave the audience a PSA in warning them that marijuana had been identified as a gateway drug. A drug that 'may lead to much harder drugs, like cigarettes, that is…'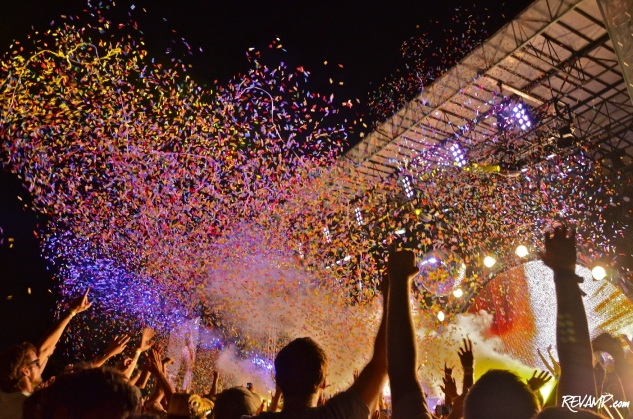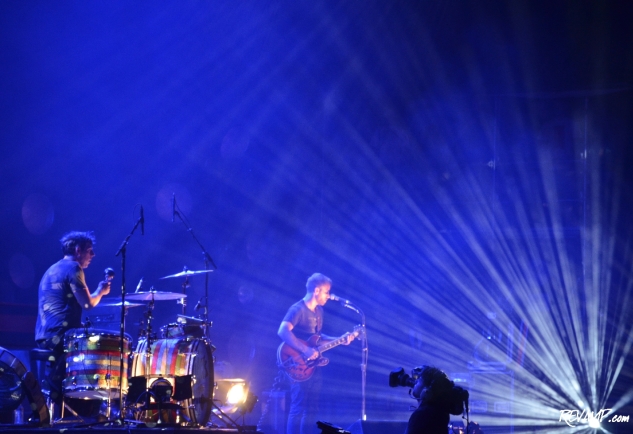 The Black Keys.
The Black Keys
finally took the stage some 55 hours after the first band of Firefly, Turf War. And as some clamored to be near the stage, still other weary fireflies fluttered near the edges; their party lights fading or faded. Stroking and pounding out crowd pleasers with a shroud of smoke encompassing the duo, fans battled fatigue for the fleeting fun as the Keys closed out the inaugural music festival.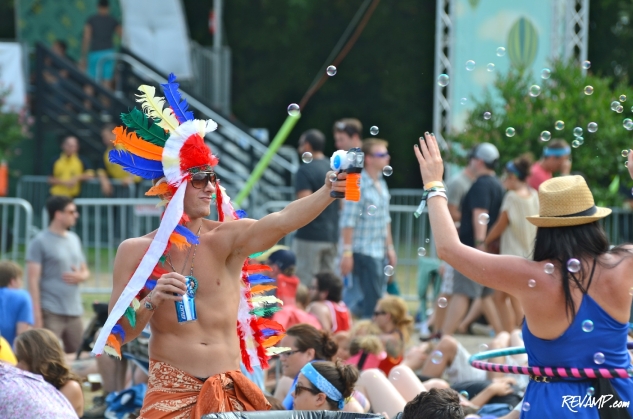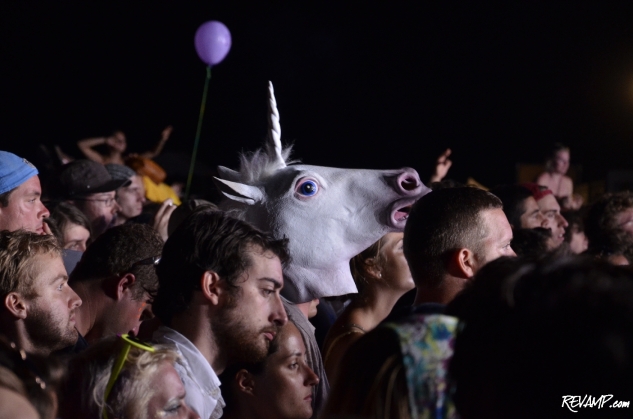 With most modern shows striving to reduce the waste they create, Firefly employed a three-system trash can, similar to the ones at Whole Foods: one slot for biodegradable items, recyclables, and lastly for landfill items. The goal of the festival was to divert 60% of the waste from landfills. And the most useful and fan-friendly eco processes in place were the free water refill stations, which often had lines longer than the bathrooms.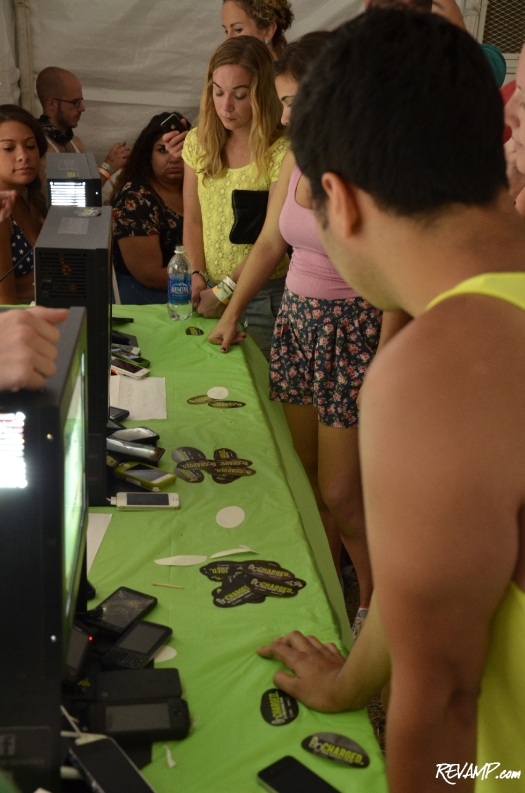 Charging stations.
Everything in this day and age has a smartphone app and Firefly was no different, except that it really offered very little to users. A scheduling feature was very useful though.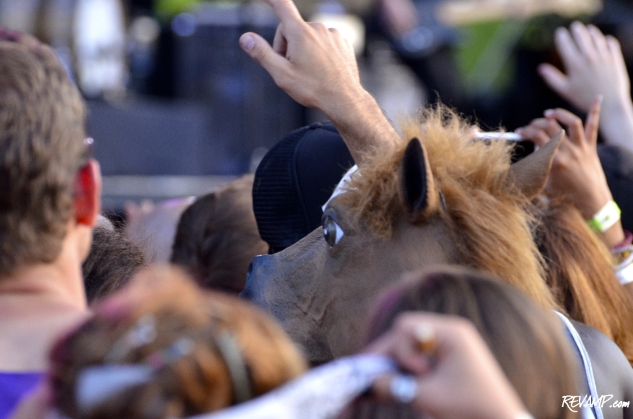 For $20, fans could get higher than most had ever been at a concert...and float far above the crowd in a hot air balloon. Charging stations for cell phones and cameras seemed like a great plan, although many festival-goers still complained that getting a charge was nearly impossible. One girl claimed it took 45 minutes to get to just 6% battery life.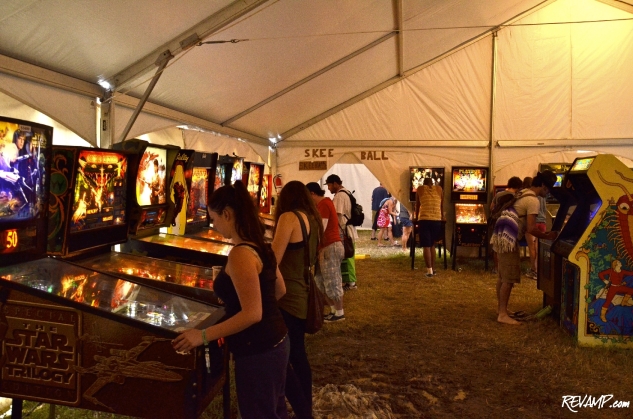 Arcade.
An old school arcade tent gave fans an opportunity to eat some ghosts, throw some skee, and shoot some space ships, for FREE. This tent also provided the best opportunity to power your devices, if you were willing to flaunt the rules and plug into the festival's power strips that were designated "not for personal use."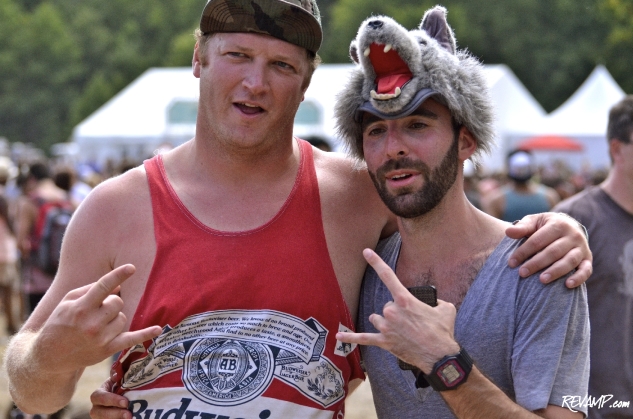 Attendees were fed by 8 pop-up restaurants that offered a variety of options, from burgers to burritos. Options don't necessarily equate into quality though and the food was reminiscent of a fifth grade Earth Day cookout.
Beverage-wise, Delaware's own
Dogfish Head
partnered with Firefly and offered a craft brewery/sports bar on the grounds, with a special Firefly Ale even unveiled just for the occasion. A vineyard was also on-site, featuring wines from the area, and offered a slightly more luxurious setting than a mosh pit or patch of hay. Indeed, violaceous lips were an all-too-familiar look for many over the course of the weekend.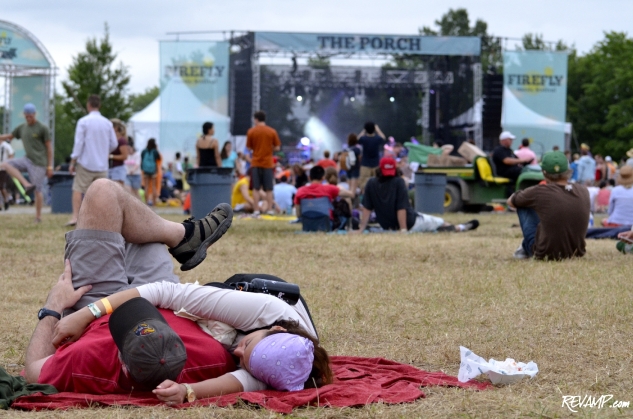 Firefly attendees had a variety of options for housing during the three day event. Camping and Glamping, RV grounds, and hotels were the most common choices. Glampers complained that the complimentary showers didn't work and campers complained about paying for showers. RV drivers probably had it the best, as they were the closest to the venue. The hotels in the area sold out quickly and left those who planned poorly sleeping in their cars.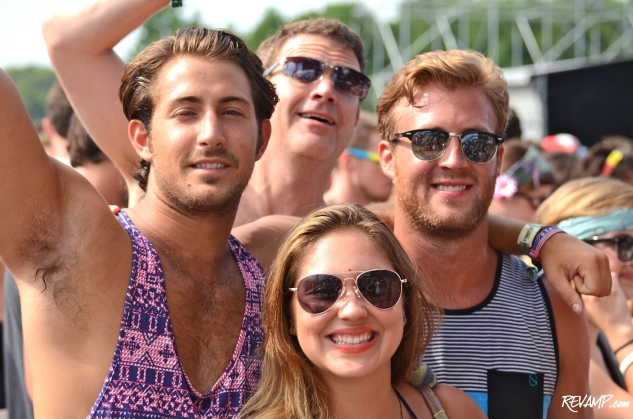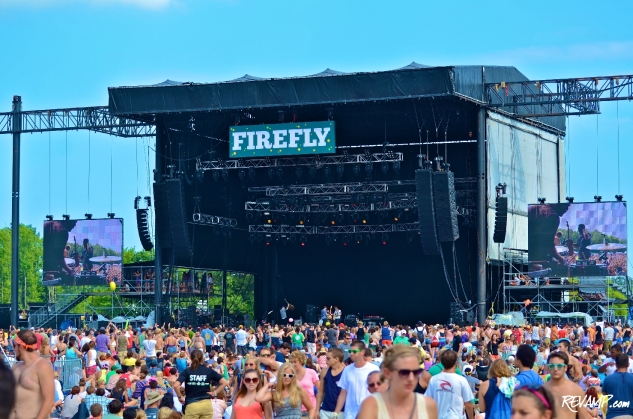 The big question lingering in the air at the close of the weekend was: "Will Firefly take place again?" Overall, fans and bands seemed to enjoy themselves. And "Firefly 2013" was wished for by many, as they meandered away from the festival grounds. Fortunately, event organizers were quick to remove all doubt about the future of Firefly.
2013 presale tickets
are already even up for grabs.