U STREET CORRIDOR --
After a crisis of the heart brought on by years of partying in Los Angeles, Ima Robot frontman
Alex Ebert
enrolled in a 12-step rehabilitation program and began work on a book about Edward Sharpe, a being who was sent to earth to help heal mankind, but gets distracted by girls and falls in love. In a case of real life mirroring fiction, Alex eventually met, and fell in love with fellow vocalist
Jade Castrinos
and together they formed a multi-piece band in 2009 and began touring under the moniker of
Edward Sharpe and the Magnetic Zeros
. And so the group pulled into D.C. last week for a performance at the
9:30 Club
, fresh off an appearance on 'David Letterman', which seems to be a recurring theme for Washington shows these days.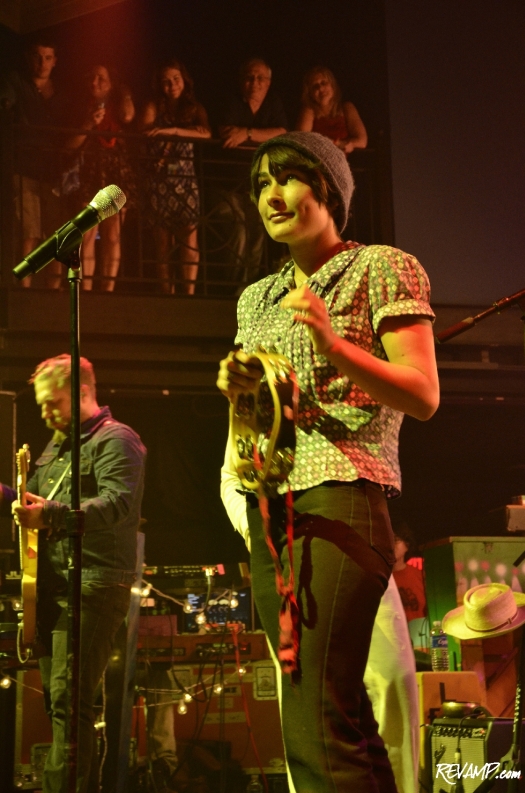 Photo: Frank Wilson / REVAMP.com.
A crowd with more energy than octopuses have ink swarmed the club floor for a good spot, nearly 20 minutes before Ed Sharpe and crew were scheduled to take the stage. As the band emerged from its dressing rooms (20 minutes late), thunderous whooping applause and cheers erupted from the overwhelmingly female crowd. What many failed to see, however, was that Alex came on early and Jade last. She didn't look at Alex and quickly took her seat, with her back to him. Alex then announced that he was "tired" and honestly looked the part as well.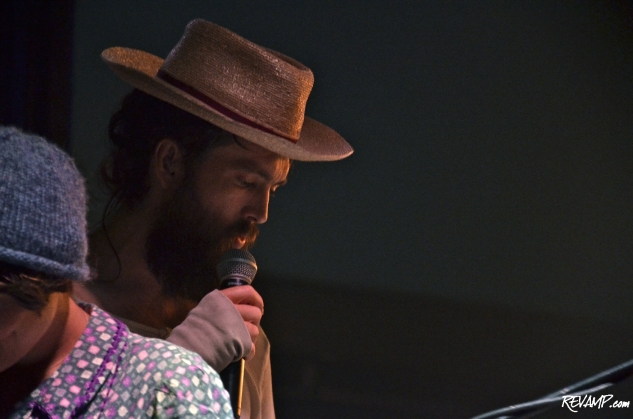 Photo: Frank Wilson / REVAMP.com.
Ed Sharpe and the Zeros began the show with the members introducing themselves by each playing a solo or a duet with someone on a similar instrument. This sort of band unfurling seemed to mellow the split crowd: half fanatics, half radio fans. Still, Ed and his Zeros have established themselves as a live music force, and the crowd got glimpses of their power throughout the meandering set. Alex interacts with the crowd throughout the show, walking amongst them, rubbing his head in the bosoms of women, bringing folks on stage, looking at their cell phone pics, etc. He is unabashedly a showman. When the introductions concluded, they knocked on the doors with the start of "40 Day Dream", thereby causing the hippie crowd to go revival church nuts. Singing, dancing, clapping, crying. Hair waved back and forth. People played strangers like bongos. It was a carnival on meth orchestrated by a homeless-looking man, backed by 11 Urban Outfitters employees.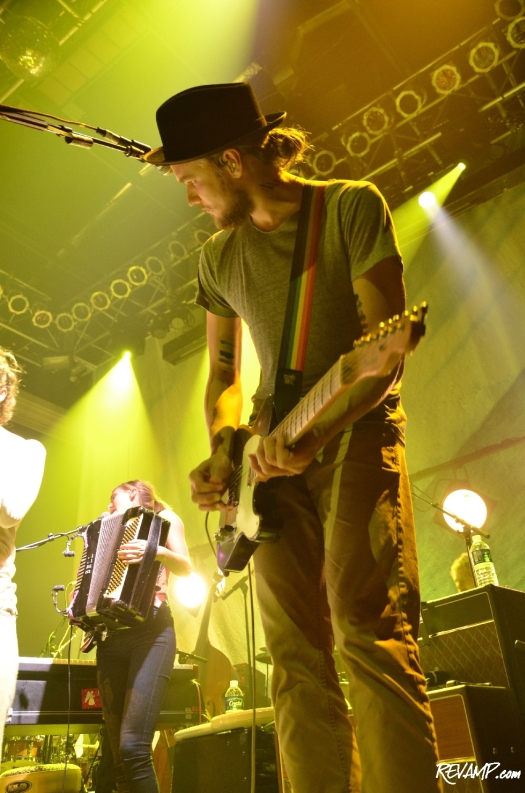 Photo: Frank Wilson / REVAMP.com.
A riff between Jade and Alex seemed to shape the dynamic of the band though. During the show, she stormed off stage, forcing them to play a duet, "Child", between guitarists
Christian Letts
and
Mark Noseworthy
. While the song was a highlight and revealed the collective depth and musical talent on stage, it made you wonder what's next for the group. They tour through June 1st stateside, before heading overseas, and Alex clearly told the crowd they were still "working on the lyrics" to a song set for their second album, which is due at the end of the month. And they don't have plans for a third album, with many members instead working on solo records.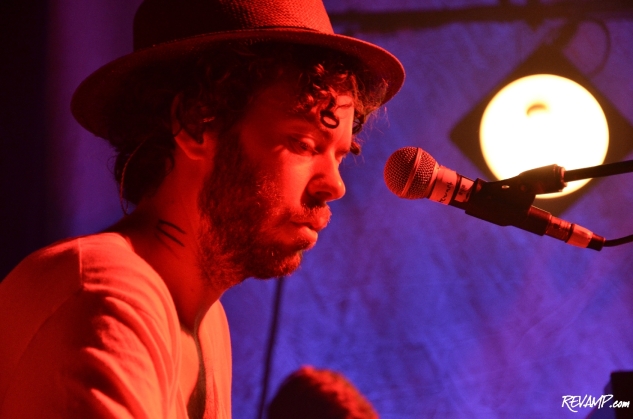 Photo: Frank Wilson / REVAMP.com.
Jade eventually, of course, returned to the stage and announced that she was now "feeling everything." A chorus of whistling soon followed and mega hit "Home" quickly remedied any stagnation that may have developed among the crowd, which seemed to sense, if not recognize, the onstage strife.
Photo: Frank Wilson / REVAMP.com.
The show drifted into a finale that was very unique, with Alex wandering into the crowd and taking a seat. He then asked everyone else to take a seat as well and, of course, they readily acquiesced. As a rolling, finger-snapping "On Nashville" echoed from the space surrounding Alex, the space filled with flashes from every pocket device imaginable. Hand shakes, high fives, and hugs showered the Johnny Appleseed look-a-like, as he returned to the stage, and the show was over. Just like that; no encore, just house lights.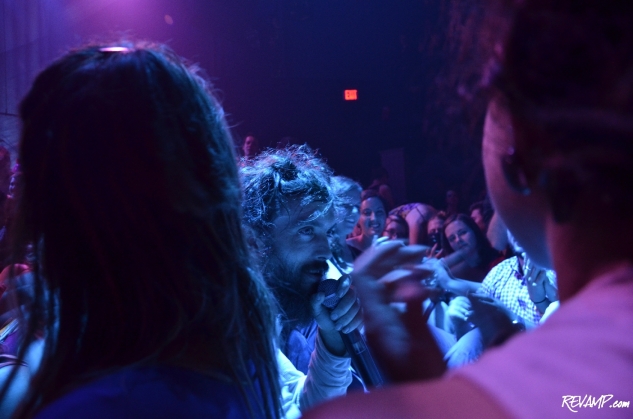 Photo: Frank Wilson / REVAMP.com.
Edward Sharpe does his best work healing when he's in love; singing about love. If he doesn't jump out the window after Jade, the future of the band nevertheless seriously remains in doubt...until the next girl of the hour comes along at least (possibly current group member and actress
Nora Kirkpatrick
?). If you've never seen them, see them. They are something to behold. If you have seen them, you'll recognize that it's like hanging out with a couple engaged in a fight: Tired, frayed edges, and glimpses of a simply captivating love.