Refugees International Vice Chair Sam Waterston and Board Member Matt Dillon.
NORTHWEST --
The streets surrounding the
Andrew W. Mellon Auditorium
were crowded by limousines and luxury vehicles sporting diplomatic license plates on Thursday evening, as dozens of Ambassadors, Congressmen, and other VIPs turned-out for
Refugees International
's (RI) 33rd Anniversary Dinner.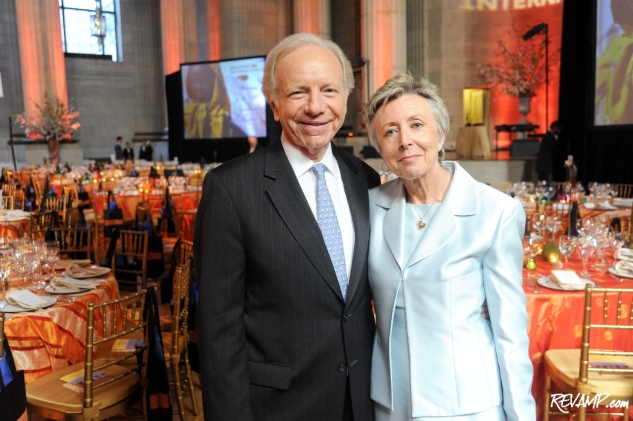 Senator Joe Lieberman (I-CT) and his wife, Hadassah Lieberman.
While the dinner has
traditionally been emceed
by RI Vice Chair
Sam Waterston
, the veteran actor (cue
Law & Order
Ďdun-duní sound) graciously ceded this yearís duties to RI Board Member and fellow thespian
Matt Dillon
, who opened the night with a video overview introducing the organization.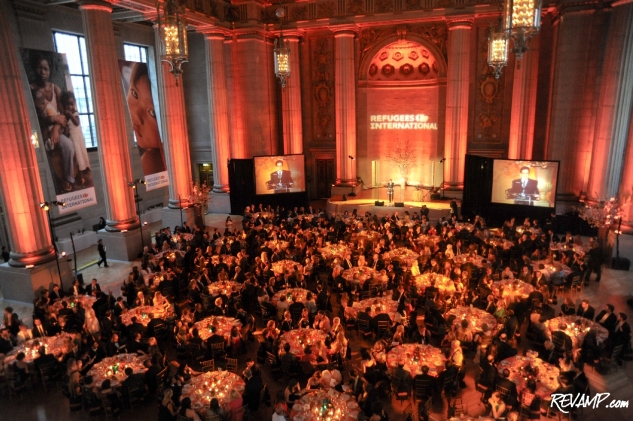 Remarks by RI Chair
Eileen Shields-West
and RI President
Michel Gabaudan
soon followed, before Honorary Chairs
Ambassador Ichiro Fujisaki
and his wife,
Yoriko Fujisaki
, were introduced.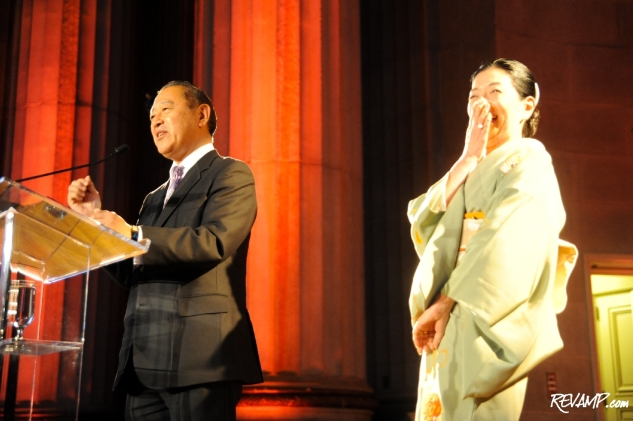 Ambassador of Japan Ichiro Fujisaki and his wife, Yoriko Fujisaki.
The Japanese Ambassador to the United States had the comical luck of accidentally forgetting the true date of his wedding anniversary on-stage, much to the amusement of his wife and fellow dinner guests.
Refugees International Chairman Emeritus Jim Kimsey.
The first two award presentations of the night, the Congressional Award and the Richard C. Holbrooke Leadership Award, were then accepted by
Congressman Chris Smith
(R-NJ) (who also accepted on behalf of the late
Congressman Donald Payne
(D-NJ)) and
Colette Lespinasse
, respectively.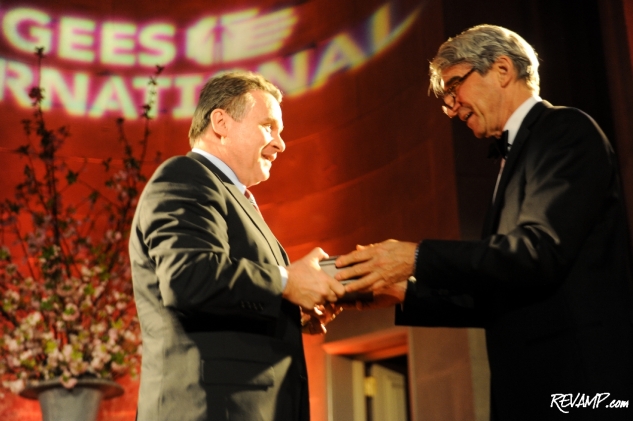 Congressman Chris Smith accepts the Congressional Award from Sam Waterston on both his behalf and that of the late Congressman Donald Payne.
Nevertheless, the true highlight of the dinner had to be
FEED Projects
Co-Founder and Chief FEEDer
Lauren Bush Lauren
ís acceptance of the 2012 McCall-Pierpaoli Humanitarian Award. Presented to her by
Her Majesty Queen Noor
of Jordan, the award is Refugees Internationalís highest honor.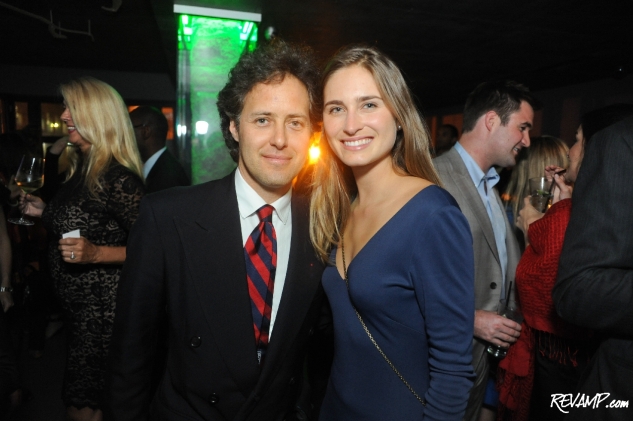 David Lauren and Lauren Bush Lauren.
Lauren was inspired to create the first FEED bag back in 2004 while serving as the Honorary Spokesman for the World Food Programme. Since that time, FEED Projects has contributed more than $6 million to the WFPís school feeding program -- the equivalent of more than 68 million meals for school children Ė through the sale of its eco-friendly line of products. And itís worth noting that Lauren was diligently sporting a FEED bag throughout last nightís dinner!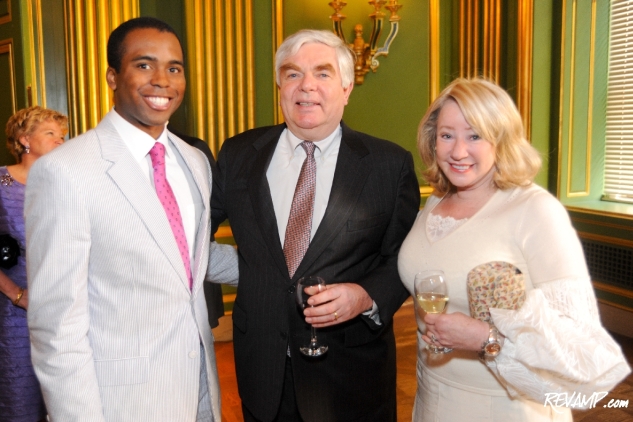 Congressman Jim McDermott (D-WA) pictured center.
The evening program then concluded with a stirring performance by vocalist
Julia Braxton
and pianist
Julian Spires
from the
Duke Ellington School of the Arts
.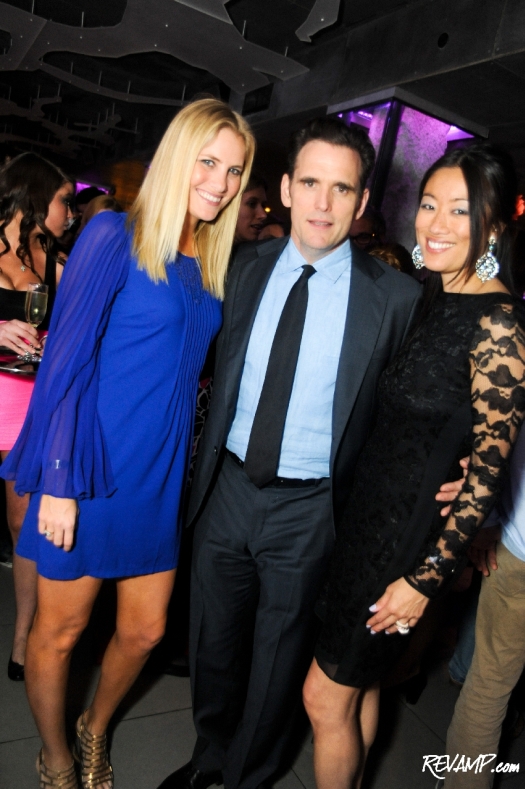 Refugees International Young Humanitarian Circle Co-Chairs Ashley Taylor and Pamela Sorensen flank dinner Master of Ceremonies Matt Dillon.
Afterwards, members of Refugees Internationalís Young Humanitarian Circle (YHC) joined-in on the festivities during a special after party honoring Lauren at K Streetís recently opened
Fujimar
restaurant and seafood bar. Hosted by YHC Co-Chairs
Ashley Taylor
and
Pamela Sorensen
, the late night bash drew plenty of elegantly-clad dinner guests, including Dillon, Lauren, and Laurenís husband,
David Lauren
, in addition to new revelers.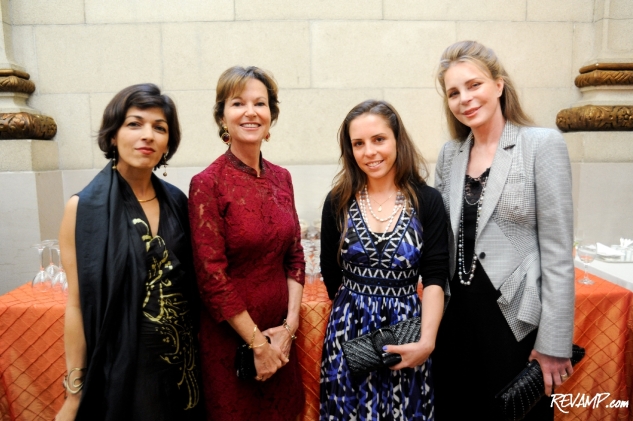 Her Majesty Queen Noor of Jordan (far right) presented Lauren with Refugees Internationalís highest honor.
Since 1979, Refugees International has been tirelessly working to resolve crises on behalf of the more than 42 million refugees or internally displaced people struggling throughout the world at any given moment.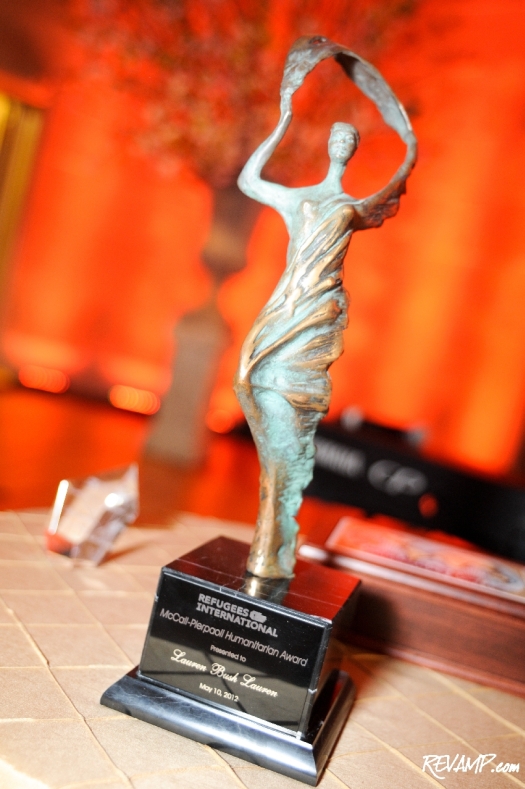 The Italian-crafted McCall-Pierpaoli Humanitarian Award presented to Lauren Bush Lauren.
And a 34th Anniversary Dinner is surely already in the worksÖ
Tags:
Andrew W. Mellon Auditorium