PENN QUARTER --
When the original
Jaleo
first opened in Penn Quarter almost 20 years ago (its name was inspired by
John Singer Sargent
's 'El Jaleo' painting in Boston), the neighborhood was a magnet for the District's seedier side and the Verizon Center still but a giant hole in the ground. But so good was
Jose Andres
' food and so novel was the concept at the time that the city's foodies were willing to brave the elements for the chance to sup at one of the
country
's first Spanish small plate restaurants.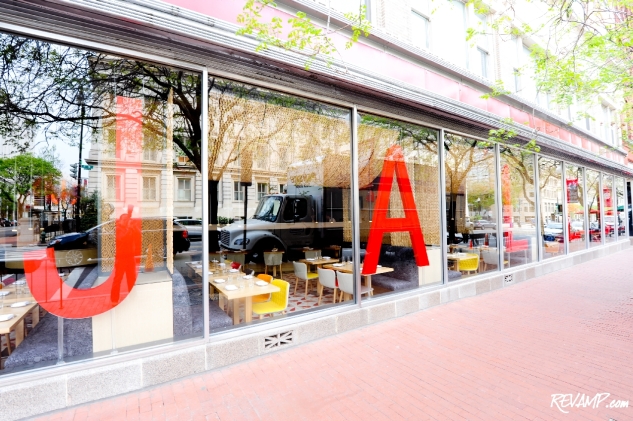 Jaleo's signature bright red outdoor sign is now even bigger.
Fast forward to 2012 and small plate restaurants abound in D.C. and Chef Andres is now a household international name, with close to a dozen properties scattered throughout Washington and Las Vegas. Seeking to position his 'first love' (culinary love anyways) for the future, Andres closed the 7th Street Jaleo location at the beginning of the year in preparation for a complete interior design overhaul.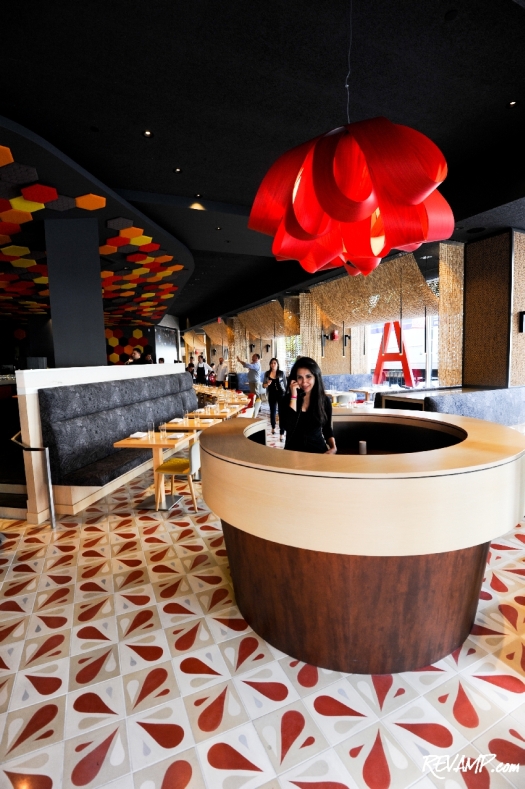 Host stand.
And the results of such an intense multiweek floor-to-ceiling revamp was revealed to the general public on Wednesday afternoon, as Jaleo Washington, D.C. threw open its doors once again. Leveraging the artistic direction of Spanish designer
Juli Capella
(who was also responsible for the design of the namesake's Las Vegas property), the restaurant now boasts a colorful avant-garde design that nevertheless remains rooted in Andres' ties to traditional Spain.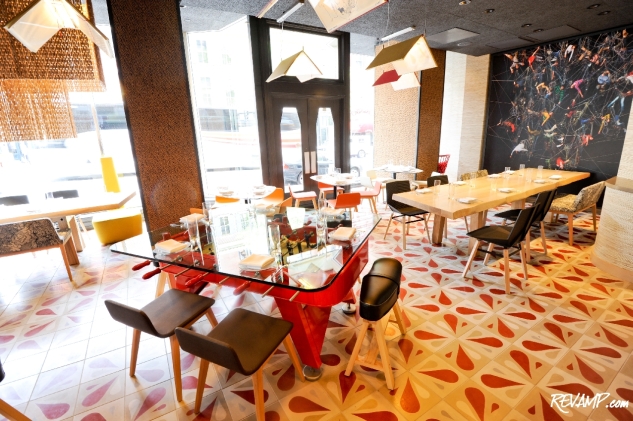 When guests first enter the 'new' Penn Quarter Jaleo (the dining room seats 140, with 30 seats at the bar and 24 on the patio), they are immediately greeted by a bold host stand that was designed by
Luis Eslava
, as a giant flowerpot of sorts, complete with a unique red lamp installation.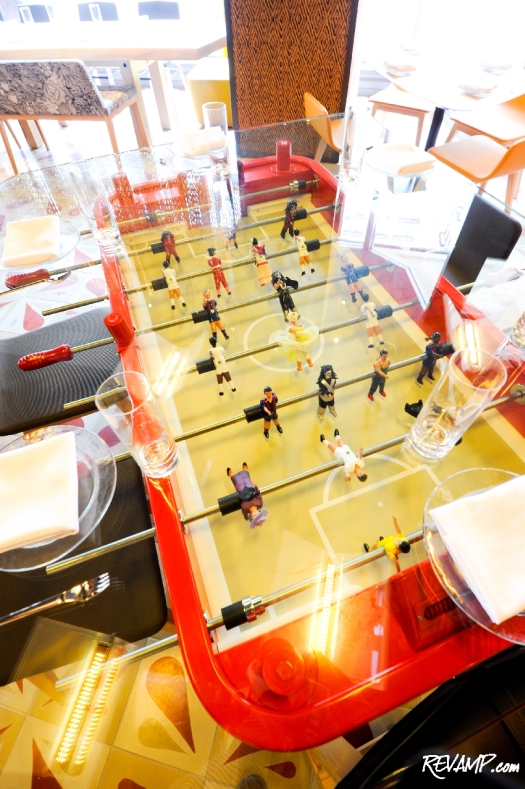 Immediately to the left, customers will find their gazes driven by a striking row of red foosball tables that also serve double duty as dining tables. Overhead hang a selection of
Marti Guixe
's BOOK lamps made from paper-paged books, which the restaurant will afford a handful of lucky customers the opportunity to design and draw in. Equal parts playful and sophisticated, these prime spots are designed to be provocative yet fun and are in keeping with the overall new vision of the restaurant.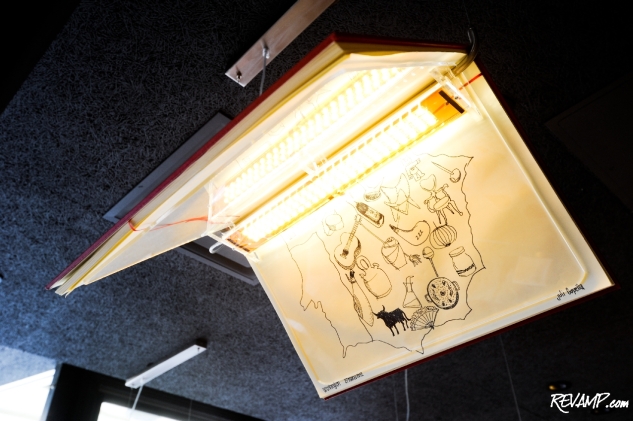 BOOK lamps.
Visual, in addition to culinary, art commands attention inside the refreshed space, with three art installations by
Daniel Canogar
, one of Spain's best emerging artists, on display:
Enredos
,
Gravedad Cero
, and
Jump 1
. When backlit by a series of large lighting panels, the activity of the individuals portrayed in the images is intended to illustrate the vibrancy and excitement of the restaurant.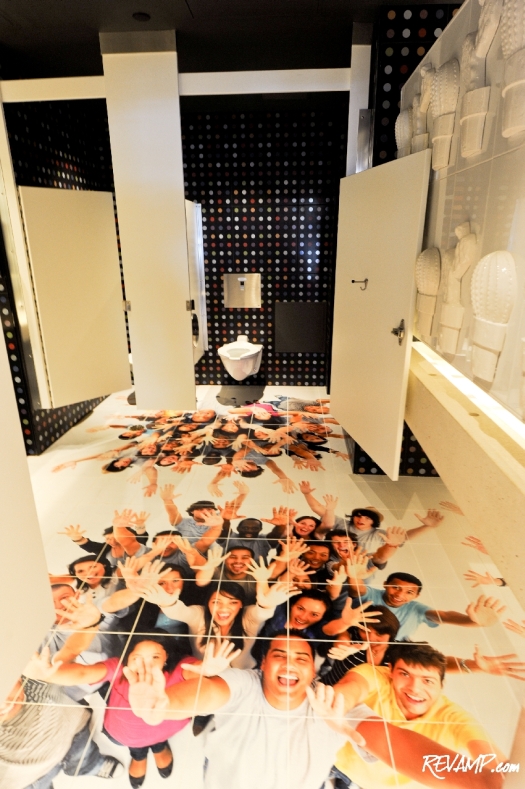 The artistic floors of the restrooms.
Intimacy nevertheless continues to hold sway at Jaleo, with two cozy 'love tables' tucked away in the corners of the restaurant. Enclosed in metal curtains, the tables are by
Francesc Rife
for Ziru with matching red armchairs (otherwise known as 'Nub chairs') designed by
Patricia Uriquiola
for Andreu World.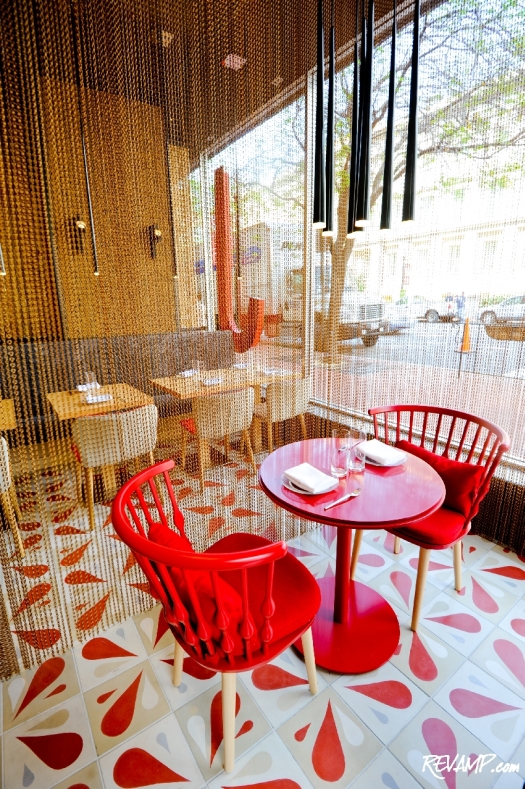 And two large communal tables can be found most prominently along the windows of 7th Street. Constructed out of American pine, they are surrounded by an arrangement of benches and Spanish chairs, including
Javier Mariscal
's special 'Green Chair', made from recycled plastic. Such group settings are the perfect place to enjoy the restaurant's new menu, including a trio of large plate offerings that can serve up to six people each.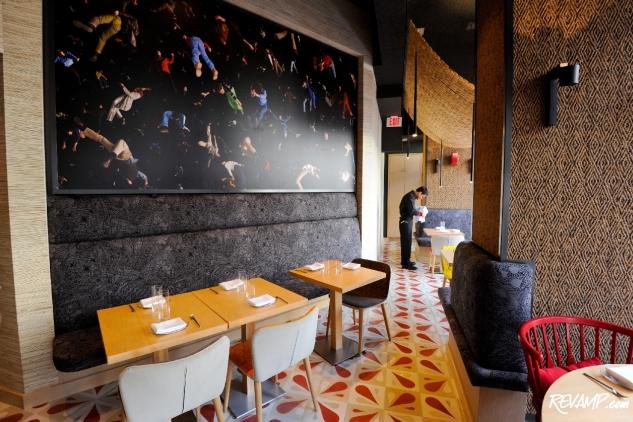 Speaking of Jaleo's expanded menu, most of the restaurant's signature dishes remain. So too do a series of authentic paellas. But the old favorites are also now augmented by the introduction of a handful of new dishes (about 20% of the menu) courtesy of chefs
Ruben Garcia
and
Ramon Martinez
.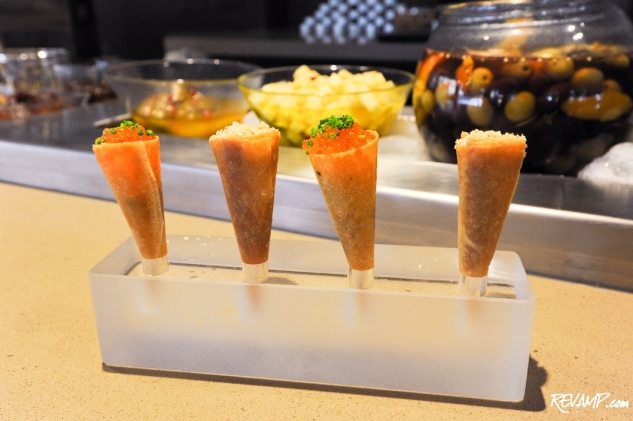 Trout roe cones.
Particularly noteworthy are the trout roe cones, oysters 'Gin & Tonic' (Andres' favorite drink), empanadas of cod brandade and honey, and pisto manchego with quail eggs.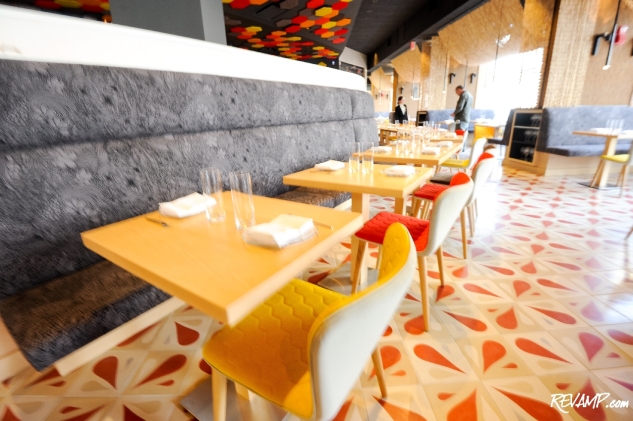 Loosely translated in English to mean "uproar, revelry or merry-making", the newly redesigned Jaleo remains true to its word. Twenty years down, twenty year to go!