WASHINGTON, D.C. --
When
Forbes
magazine set about chronicling an authoritative list of the world's wealthiest men and women in 1987, it managed to scrounge-up a mere 140 billionaires (pathetic, right?). This month, with the publication of the 25th anniversary edition of its annual 'billionaires issue', such a catalog now boasts more than 1,225 individuals worth a record $4.6 trillion. And 16 of these titans of capitalism happen to be your neighbor…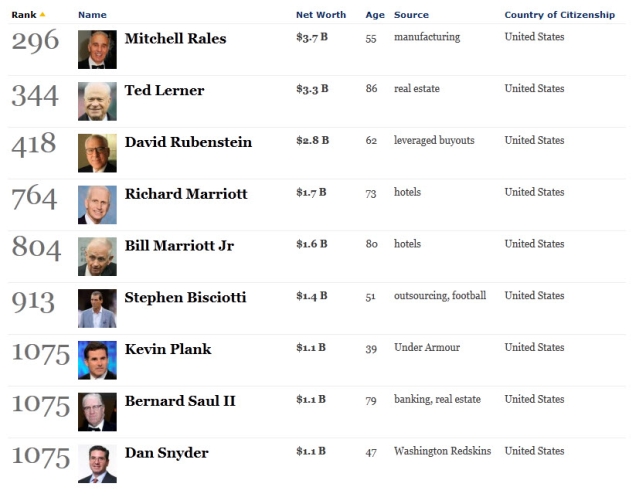 Maryland billionaires (Source: Forbes).
Jacqueline Mars
($13.8 billion),
Winnie Johnson-Marquart
($2.5 billion),
Richard Marriott
($1.7 billion),
Bill Marriott, Jr.
($1.6 billion)… The usual suspects are all there.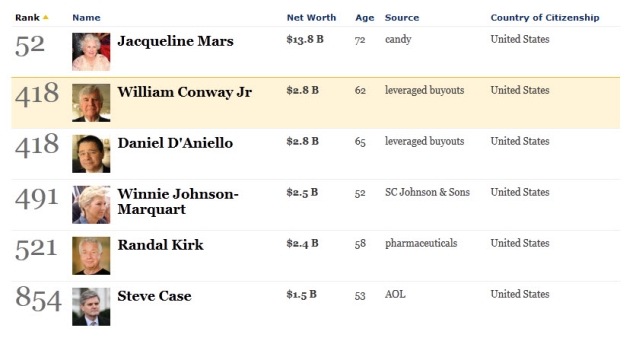 Virginia billionaires (Source: Forbes).
So too are the D.C. metro area's various sports franchises.
Ted Lerner
($3.3 billion) and his family control the
Washington Nationals
, while advertising mogul-turned-sports overlord
Dan Snyder
($1.1 billion) is well-known for his dramatic (but highly profitable) 12-year tenure as owner of the
Washington Redskins
.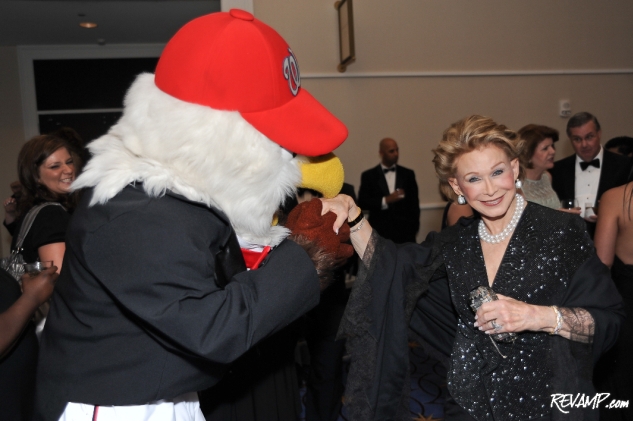 Nationals mascot Screech pays a compliment to the team's first lady, Annette Lerner.
Interestingly (or probably because of tax reasons), only one of our 16 billionaires-next-door calls the District proper home.
Steven Rales
($3.3 billion), cofounder of manufacturing and technology powerhouse
Danaher
(named after the Montana stream where he and his billionaire brother once fished for trout), is the sole D.C. resident. Maryland is by far the favorite homestead for the area's wealthiest with 9 billionaires, followed by Virginia with 6.
The District's sole billionaire (Source: Forbes).
In a sign of the entrepreneurial spirit of the area, most of the 16 are self-made.
Kevin Plank
($1.1 billion), also the D.C. list's youngest member, started selling sweat-wicking t-shirts out of his Ford Explorer in 1996. Today,
Under Armour
is one of the world's largest manufacturers of athletic apparel, with annual revenue of nearly $1.5 billion.
Forget about the 1%. Meet the <0.01%!