Serendipity 3's 'Red Velvet Sundae' is exclusive to Washington, D.C. and Las Vegas.
GEORGETOWN --
Boasting a loyal customer base that, over the years, has included the likes of
Marilyn Monroe
,
Andy Warhol
,
Oprah
,
President Bill Clinton
, and
Tom Cruise
, the story of famed New York City eatery
Serendipity 3
's rise from four-tabled diner to cultural juggernaut is the stuff of restaurant legends.
And with a much-talked about Georgetown launch of the franchise in the works for close to a year, buzz over the newest outpost in the karmic empire (other locations include Boca Raton, FL and Las Vegas) has been equally in vogue.
Speculation took a backseat to delight this Memorial Day weekend, however, as
Serendipity 3 of Washington, D.C.
finally opened its doors; first with a private preview party for friends and family on Saturday evening and then to the general public on Memorial Day itself.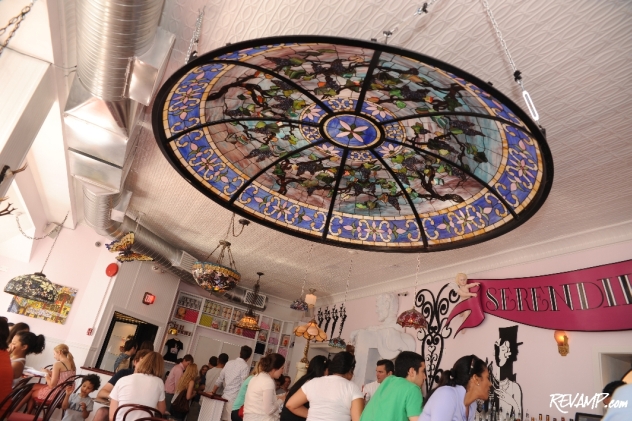 "My roots in DC run deep and begin with Mrs.
Jacqueline Kennedy Onassis
all the way to
Supreme Court Justice Sonia Sotomayor
, whom I warmly welcome to Washington, D.C., as she is a native New Yorker," said Serendipity 3 co-founder
Stephen Bruce
. "I anticipate continuing my DC roots by hosting many parties and events in DC with serendipity style."
D.C. principals
Rodrigo Garcia
and
Britt Swan
, as well as Las Vegas location owner
Rowen Seibel
, were all diligently walking the floors yesterday in order to ensure a smooth launch for Georgetown's most recent culinary addition.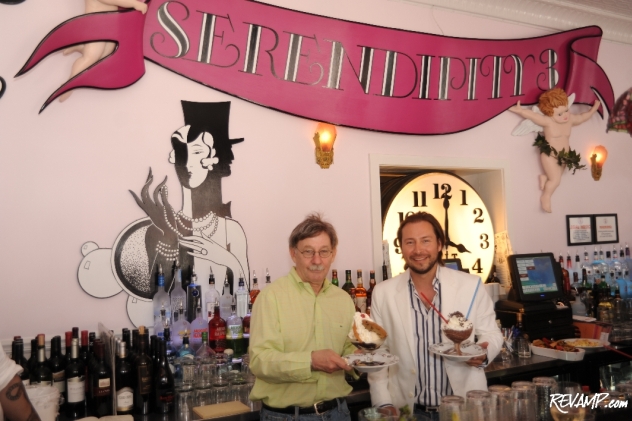 (L-R) Serendipity 3 D.C. principals Britt Swan and Rodrigo Garcia.
Originally hailing from Las Vegas,
Executive Chef Jason Ferrell
and pastry
Chef Liz Barbato
leaped at the opportunity to make their mark on the iconic brand and are now both permanent additions to the District.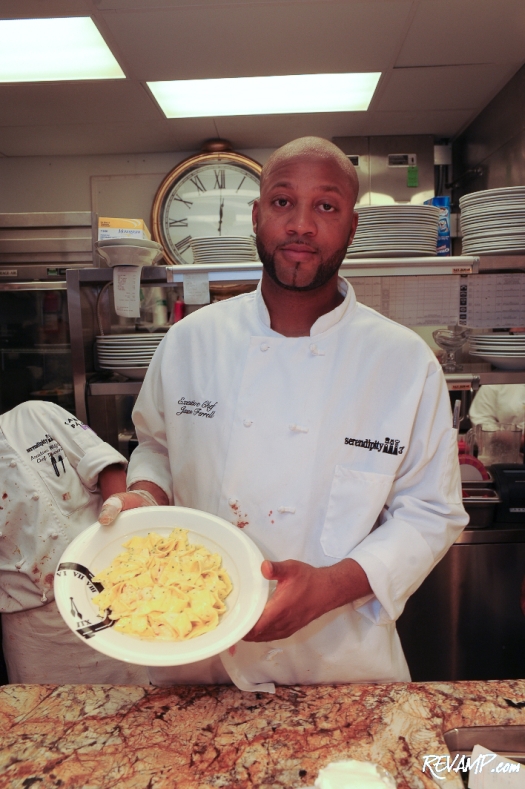 Executive Chef Jason Ferrell holds up a plate of the 'President's Lobster Pasta' – a dish exclusive to D.C.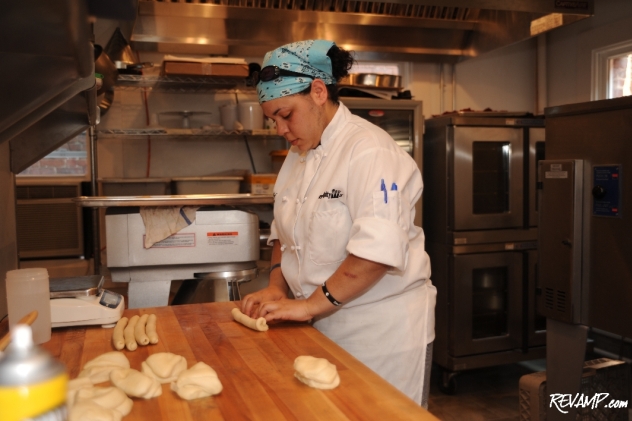 Chef Liz Barbato lovingly prepares some of the day's freshly-made treats inside the restaurant's upstairs bakery.
Much like at its flagship Upper East Side location (partially made famous by the 2001
John Cusack
movie of the same name), Washingtonians will be able to enjoy Serendipity's signature both sweet (oversized Frrrozen Hot Chocolate) and savory (Foot-Long Hot Dogs) menu items.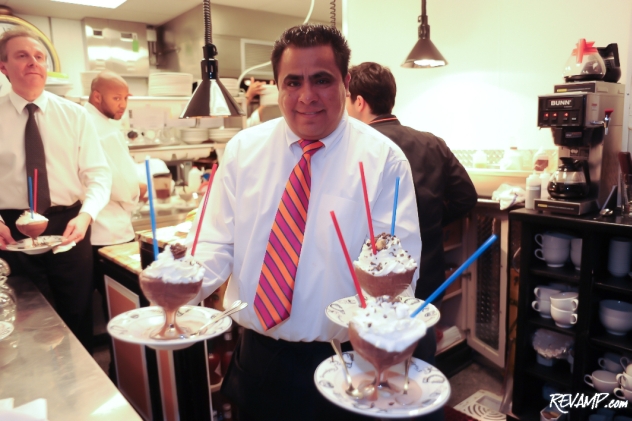 More than 10 million 'Frrrozen Hot Chocolates' have been sold to date in the U.S. and Georgetown residents were eager to help add to that count on opening day.
However, District foodies will also be able to sample dishes that are exclusive to the Georgetown restaurant, including a 'President's Lobster Pasta' (fresh paperdelle pasta and Maine lobster served in a creamy brown butter sauce), chicken pot pie, a seasonal 'Pan Seared Virginia Striped Bass' (sea bass from the Chesapeake Bay topped with lemon butter and caper relish and served with crispy rock shrimp and broccolini), lobster rolls, a 'White House Pizza' (a borderless white pie with ricotta, mozzarella, and parmesan cheese, topped with fresh basil and truffle oil), a 'Monumental Hangover' omelet (bacon, french fries, mushrooms, cheddar & jack cheeses), a 'Capital Club' sandwich, a cherry cobbler a la mode, and, for those with the ultimate sweet tooth, a $77, four-person 'Serendipity D.C. Treasure Chest' sundae (assorted ice creams, cookies, berries, and cakes).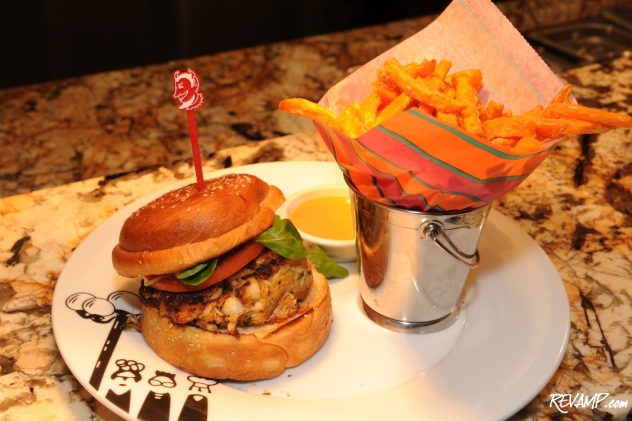 Crab Cake Sandwich and Sweet Potato Fries.
Similarly, D.C. customers will also be able to enjoy menu items only found at Serendipity locations outside of New York City. Our favorite? The 'Red Velvet Sundae' that pairs a traditional drugstore sundae with a sumptuous slice of red velvet cake, and which can only be found in
Caesar's Palace
and, now, Washington.
Much like its counterparts throughout the country, the Georgetown outpost boasts an equally playful décor that blends a historical brick-and-mortar shell with whimsical interior accents, like a smirking fiberglass statue of
President Abraham Lincoln
created by D.C. artist
A.J. Strasser
, colorful replicas of iconic Tiffany lamps (most available for purchase), and even a historic clock from Galt & Bro. Jewelers – Washington's oldest private business until it closed in 2001.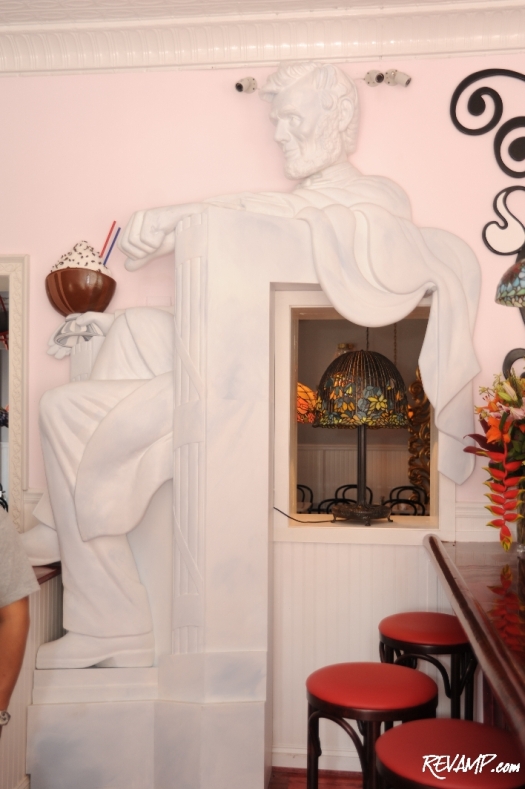 D.C. artist and prop designer A.J. Strasser's statue of President Lincoln flanks the main bar area.
Customers, of course, will have the final say on whether Monday's restaurant opening is, well, serendipitous. But judging by the smiles on their faces yesterday, we think fate is on Serendipity's side!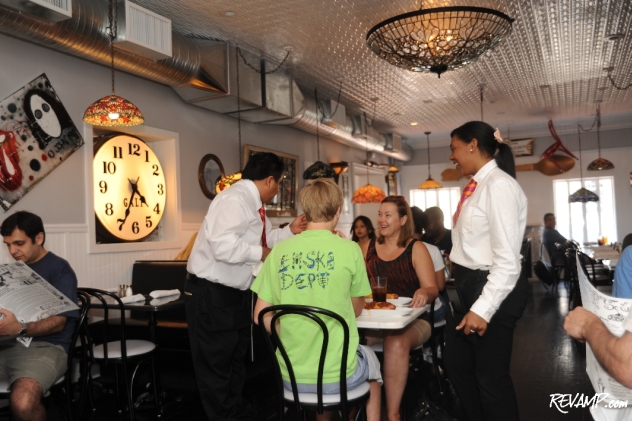 *********
Serendipity 3 is located at the intersection of M Street and Wisconsin Avenue and is open from 11:30 a.m. to 2:00 a.m. Sundays-Thursdays and 11:30 a.m. to 3:00 a.m. Fridays and Saturdays. Reservations are encouraged and can be made by calling (202) 333-5193.



Tags:
Serendipity 3 (Washington, D.C.)