(L-R) Jenny Licht, Chris Licht, and Tammy Haddad at the book party for "What I Learned When I Almost Died".
NORTHWEST --
Fearless is an adjective that perhaps best describes the men and women who dedicate their careers (and sometimes lives) to reporting on the news. Be it a field reporter venturing into a war zone, a veteran news anchor questioning some of the most powerful people in the world or a behind-the-scenes producer who must somehow make it all work (and be profitable), today's media professionals must possess the curiosity, tenacity, and daring that most abandoned in childhood.
And when such a person is suddenly robbed of these qualities by an uncontrollable, life-changing event, the impact can be profound; not just on the victim himself, but also on his colleagues, friends, and family.
Such was the case with former MSNBC "Morning Joe" executive producer
Chris Licht
, when he was suddenly stricken by a near-deadly brain hemorrhage in 2010.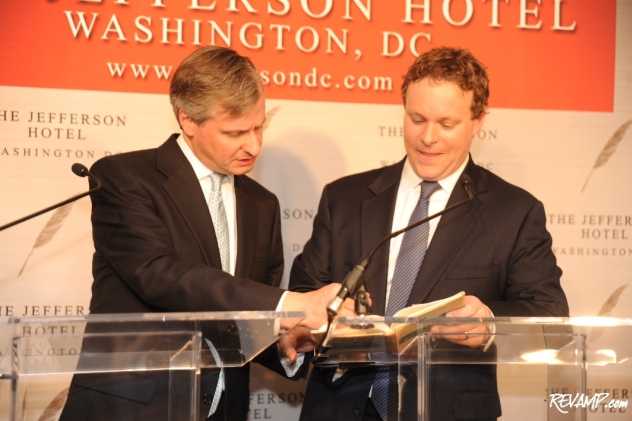 Jon Meacham questions Chris Licht about a section of his book.
Having undergone a successful recovery period over the past year and with a new job as Vice President of Programming for
CBS News
under his belt, Licht is now ready to tell his story with the release of his debut book:
"What I Learned When I Almost Died: How a Maniac TV Producer Put Down His BlackBerry and Started to Live His Life"
.
Thursday evening,
Constance Milstein
,
Jon Meacham
,
Kevin Sheekey
, and
Tammy Haddad
hosted a private reception and interview with Licht at
The Jefferson Hotel
, to kick off his book tour and toast his recent career change.
After opening remarks by friends and "Morning Joe" co-hosts
Joe Scarborough
and
Mika Brzezinski
, former
Newsweek
editor and current
Random House
Executive Vice President
Jon Meacham
conducted a live interview with Licht that touched on everything from his current health status to his jump to CBS from MSNBC, which was simulcast over the Internet at the Haddad Media
White House Correspondents Weekend Insider
website.
"We all think we have so much control over our lives. We really don't… And this is a book that talks about a guy… that's as Type A as Type A can be… and a guy who understood, one day out of nowhere, that… he could have died in an instant. And this is an amazing story about Chris figuring that out," said Scarborough.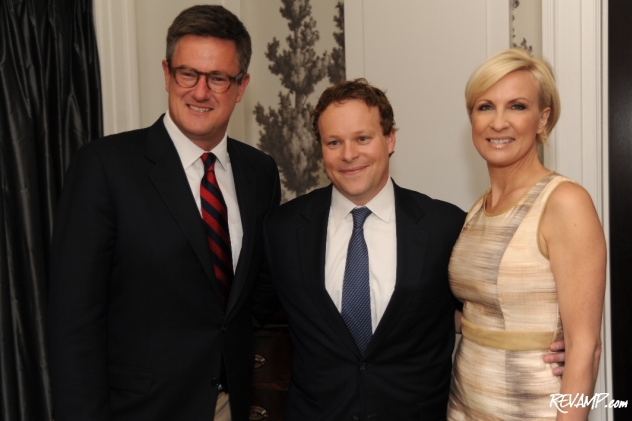 Joe Scarborough, Chris Licht, and Mika Brzezinski.
"It's also a book about friendship," added Brzezinski. "And those too can be fleeting in this business. And we, I think, learn… about the value of friendship and exactly what it really means. And we all learn a little something about ourselves and about each other and about how close we are... We also know that friendship is about sometimes thinking about what's better for your friend than necessarily for yourself, and that's why we have a hard time letting go, but we also congratulated Chris and urged him to take the job at CBS."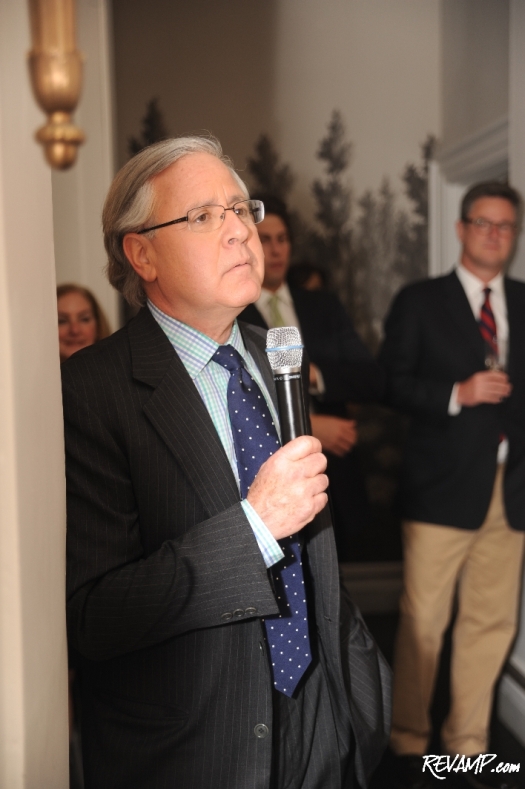 Huffington Post Senior Editor Howard Fineman asks Licht a question during the book reception's Q&A session.
Joining Licht at the book party was everyone from Pulitzer Prize-winning journalist
Bob Woodward
to top Republican media consultant
Alex Castellanos
to
The New York Times
'
Mark Leibovich
to
POLITICO
's
Mike Allen
and
Patrick Gavin
to
Ambassador Lloyd Hand
and celebrated jeweler
Ann Hand
to political communications strategist
Hilary Rosen
.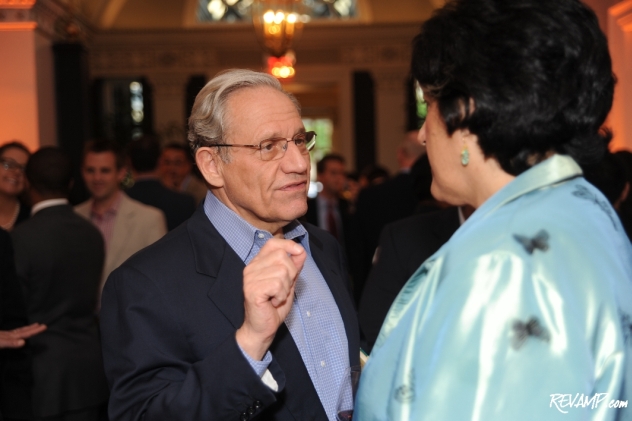 Bob Woodward and Tammy Haddad.
When asked by Meacham what, in a short sentence, he learned when he almost died, Licht replied: "Whatever really matters and how to organize that in my brain so that it works in my mind… You find out who matters when something like this happens. And obviously my wife Jenny… She was just incredible."
Jenny Licht: 1. BlackBerry: 0.