Each gold tone metal bracelet boasts a crystal accent and comes inscribed with the quote: ďAnimals are not our whole lives, but they make our lives whole.Ē
NORTHWEST --
Having helped styled and accessorized everyone from
President Barack Obama
(inaugural pin) to First Lady
Laura Bush
to Secretary of Defense
Robert Gates
and his wife, itís probably safe to say that Washington-based jewelry designer
Ann Hand
has made many friends, since she first started her firm in 1988.
But Annís
famous
friends sometime need to take a backseat to her
furry
friends, which is why she recently unveiled a brand new
Fashion for Paws Verse Bracelet
, with 20% of the proceeds benefiting the
Washington Humane Society
directly.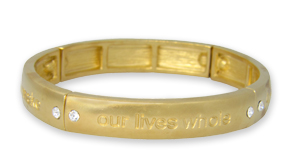 20% of the proceeds from each bracelet benefits the Washington Humane Society.
Measuring 7 ĺ-inches and available for just $48.00, each gold tone metal bracelet boasts a crystal accent and comes inscribed with the quote: ďAnimals are not our whole lives, but they make our lives whole.Ē
Ann Handís granddaughter and Fashion for Paws runway model Ashley Taylor isnít shy about fighting for the humane treatment of animals!
Puppy love never looked so great before!
**********
To purchase a Fashion for Paws Verse Bracelet, please visit the Ann Hand online store or stop by their Georgetown showroom at 4885 MacArthur Blvd, NW.