PENN QUARTER --
With more than 500 locations throughout Europe, Asia, and the Middle East, well-seasoned travelers are quite familiar with the "boulangerie" (bakery to us Anglophiles) known simply as
PAUL
. Indeed, the four-lettered French culinary juggernaut is often credited with being to France what Starbucks is the United States.
And on Tuesday morning, the Seattle-based twin-tailed siren surely felt a knot in her stomach as PAUL hosted a special ribbon cutting ceremony at its new U.S. flagship bakery/café in Penn Quarter. The first location in a gradual nationwide rollout (a Georgetown store is scheduled to open sometime around August), PAUL's mission at launch is nothing less but than to give Washingtonians "a chance to experience the French 'l'art de vivre'."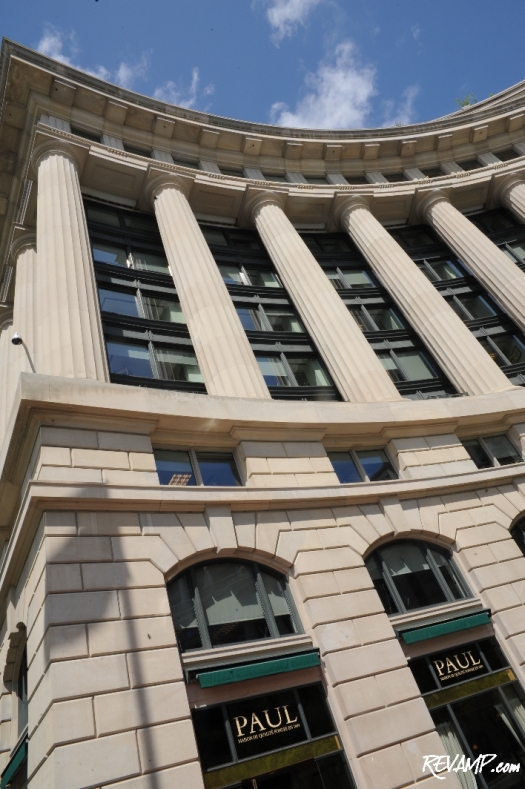 Yesterday's VIP reception, attended by everyone from
Mayor Vincent Gray
to French Ambassador to the United States
His Excellency Mr. François Delattre
to Lebanese
Ambassador Antoine Chedid
to Moroccan
Ambassador Aziz Mekouar
to D.C.
Councilmember Jack Evans
, invited dozens of VIPs to the plaza bordering the Navy War Memorial.
"We are delighted to have PAUL's here. What a first class operation. I think it sends the message once again that our city is…developing very quickly," said Mayor Gray. "Let me welcome PAUL's to the District of Columbia. We hope this is the first of 500 stores opening in [D.C.]."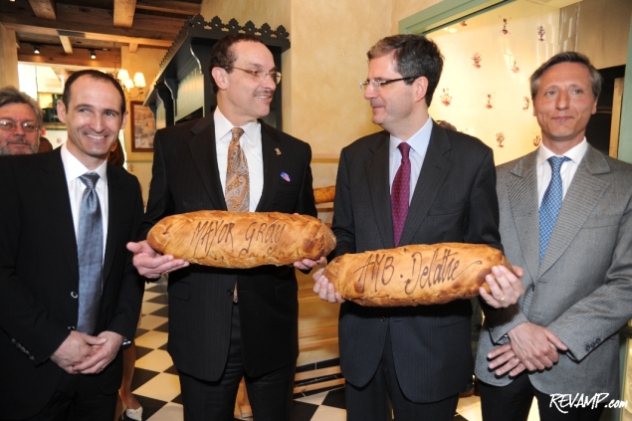 Personalized loaves of bread were presented to Mayor Gray and Ambassador Delattre.
After the ribbon cutting ceremony, guests were invited into the bakery for the very first time, with complimentary pastries, bites of salmon, and champagne cocktails all up for grabs.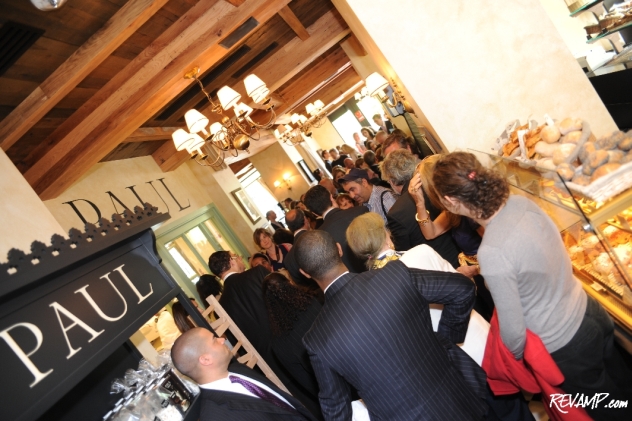 Ambassador Delattre summed the morning-up best when he stated that: "A good bakery is synonymous with individuality and immediately becomes the heart of the neighborhood. So welcome to the heart of this neighborhood!"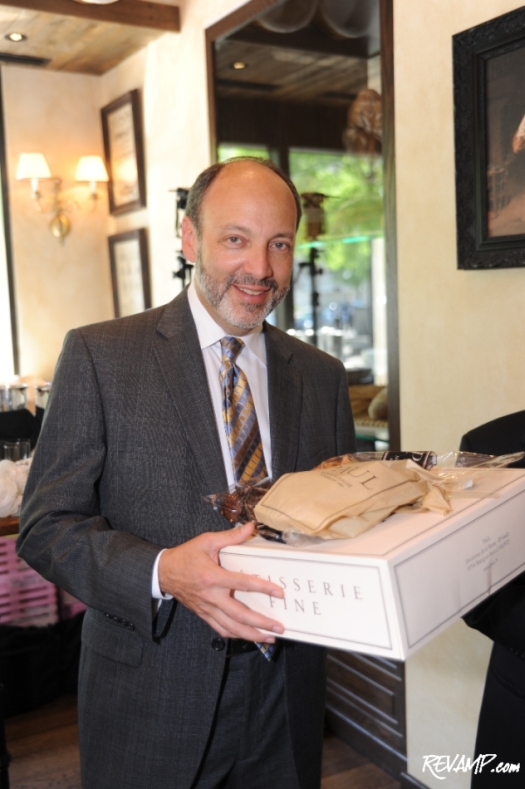 Guests happily took advantage of the reception's "open bakery" to sample everything from pastries to quiches.
**********
PAUL's Penn Quarter location will open to the general public on Monday, May 2nd, 2011. It is located at 801 Pennsylvania Avenue, NW.
Tags:
PAUL Bakery (Penn Quarter)