25-time GRAMMY winner Stevie Wonder, The Recording Academy President/CEO Neil Portnow, and three-time GRAMMY winner Bruce Hornsby mingling at the end of the awards ceremony.
NORTHWEST --
Already one of the city's
top
lounges and restaurants,
Art and Soul
at the
Liaison Capitol Hill
hotel sees its fair share of celebrities and politicians pass through its front door each year.
Nevertheless, it will be difficult for the
Chef Art Smith
-helmed venue to top the level of both political and music starpower on display Wednesday night, as it played host to the 10th anniversary
GRAMMYs on The Hill
awards.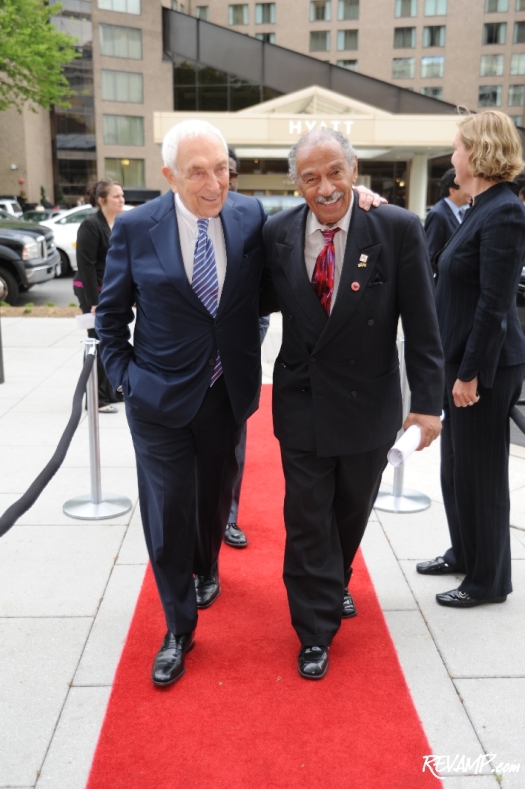 Senator Frank Lautenberg (D-NJ) and Representative John Conyers (D-MI) walk the red carpet into Art and Soul.
A ceremony that recognizes four honorees each year that "exemplify the mission of improving the life of the music community and using the power of music to improve [people's] lives,"
The Recording Academy
-sponsored celebration is designed to unite supporters across the fields of politics, education, and music, in an effort to connect with policy makers on the importance of the recording arts to the cultural enrichment and economy of the United States.
And connect they did yesterday evening, with a dozen or so Congressmen, Congresswomen, and Senators turning out to meet with various music industry representatives, including constituents from the Harry Fox Agency, National Music Publishers' Association, Pandora, Recording Industry Association of America, SESAC, and SoundExchange.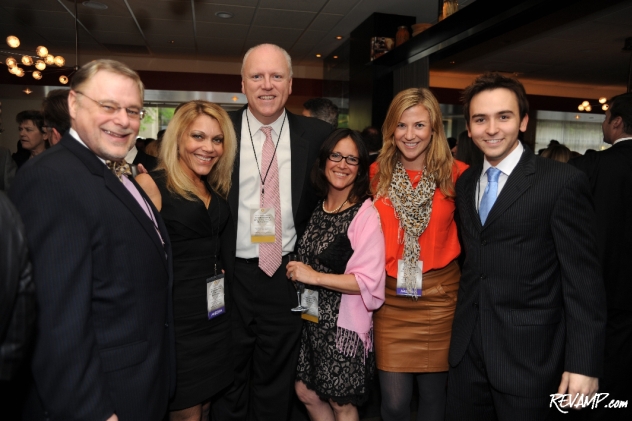 WTOP's Bob Madigan, Eats Good Media's Wendy Gordon, Congressman Joe Crowley (D-NY), Kasey Crowley, Journalist Kiki Ryan, and 94.7 Fresh FM's Tommy McFLY.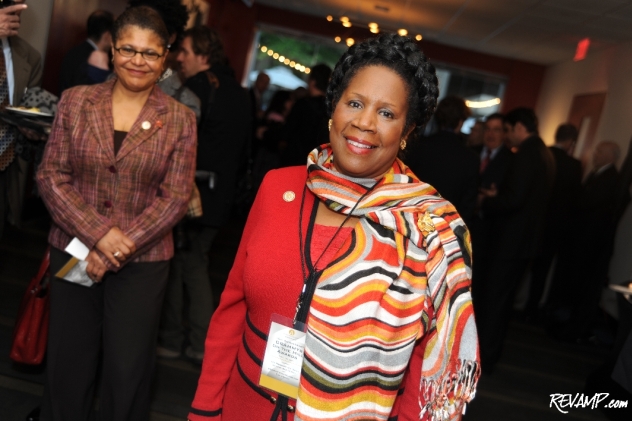 Congresswoman Sheila Jackson Lee (D-TX) with Congresswoman Karen Bass (D-CA) looking on.
Guests began the evening with a private reception that spanned the width of both the lounge and restaurant and even overflowed into Art and Soul's private dining area. The night's Master of Ceremonies, Academy Award-winning songwriter
Paul Williams
(
A Star Is Born
), and members of Congress (
Representative Peter Deutsch
(D-FL),
Representative Steve Cohen
(D-TN),
Representative Steny Hoyer
(D-MD), etc.) deftly navigated the crowded space in order to speak with as many people as possible.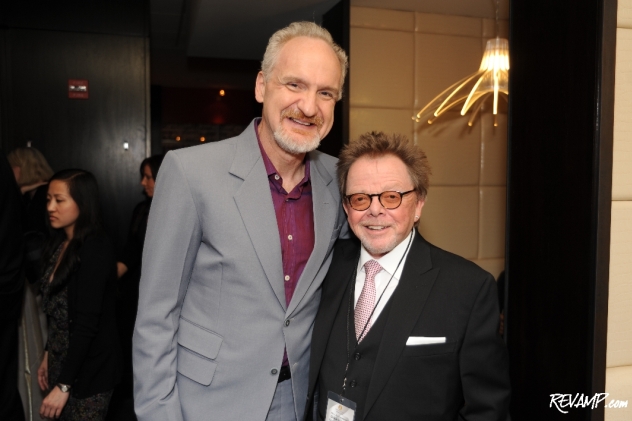 Chef Art Smith and Paul Williams.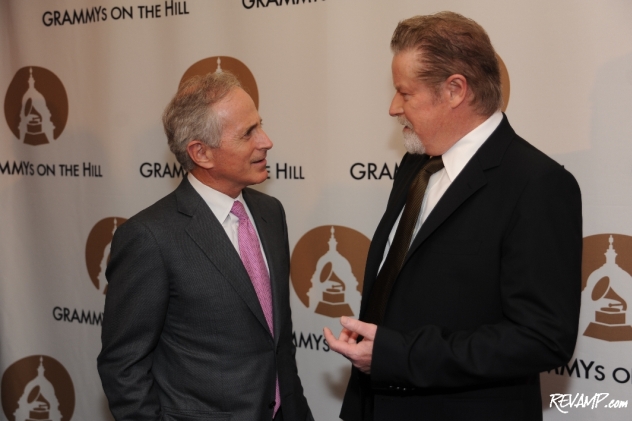 Senator Bob Corker (R-TN) and Don Henley.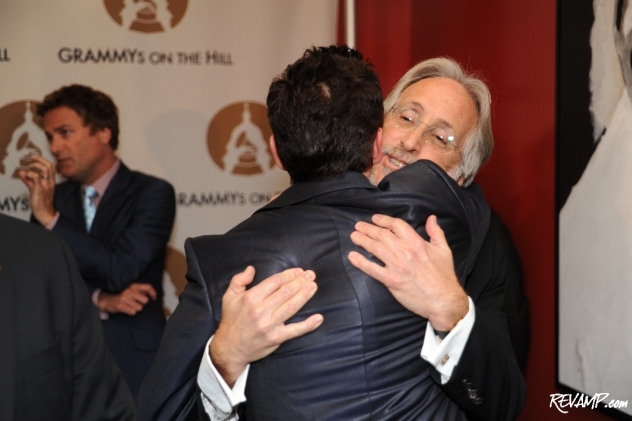 The Recording Academy President/CEO Neil Portnow gives Dave Koz a hug.
The official program kicked-off with a performance of the national anthem by Grammy-nominated saxophonist
Dave Koz
and included remarks by The Recording Academy President/CEO
Neil Portnow
, Vice President
Daryl P. Friedman
, and Chairman
George J. Flanigen IV
, as well as
Michael W. Smith
.
Williams kept the ceremony moving with characteristically jocular observations, even apologizing for confusing award recipient
Senator Bob Corker
's home state of Tennessee for Texas, by saying, "I was bitten on the neck by
Louie Gohmert
(R-TX)…I've never been the same since."
Unable to attend the ceremony personally due to a last minute scheduling hiccup,
Vice President Joe Biden
– who was represented by sister
Valerie Biden Owens
and niece
Missy Owens
– was honored with the night's first award by 25-time GRAMMY winner
Stevie Wonder
.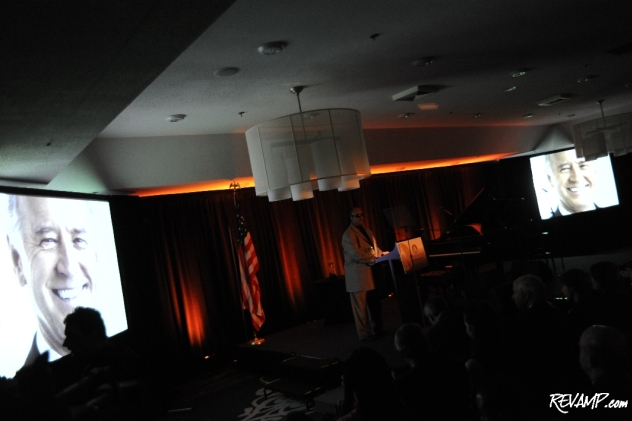 In a nod to both The Recording Academy's mission of protecting the creative rights of artists, as well as "the pain of what has happened to the people in Japan…Haiti…Chile," Wonder shared the lyrics to a new song he had recently penned (proceeds to be donated) titled "Ten Billion Hearts". It begins:
On this day, I fathom
Just how much had happened
For our world and everything above
Lost could be all sorrow
Joy we needn't borrow
If ten billion hearts would join their love.


One of goals of the GRAMMY Foundation is to advocate for music education and, with budget cuts making the headlines this week, the role of music in schools has never been more relevant. In order to recognize the importance and success of such programs, The Avett Brothers'
Bob Crawford
and
Congressman Michael Burgess
presented the music program of
Flower Mound High School
in Texas with the evening's Signature School Award and a grant for $5,500.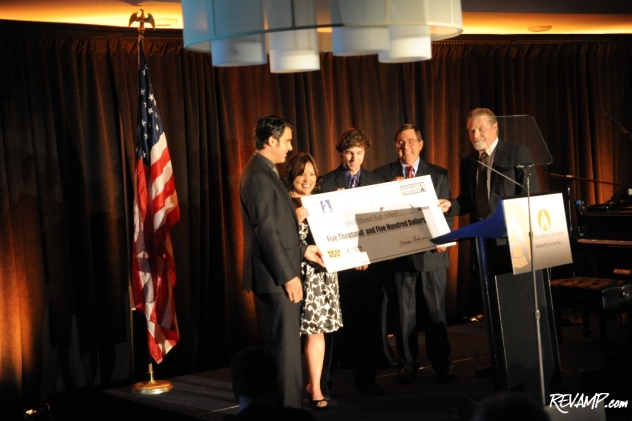 Naturally, no GRAMMY party – on The Hill or otherwise – would be complete without music and Wednesday evening's performances didn't disappoint. Three-time GRAMMY winner
Bruce Hornsby
performed two solo songs and, in a rare treat, teamed with eight-time GRAMMY winner
Don Henley
to close the ceremony with a joint rendition of "The End of the Innocence".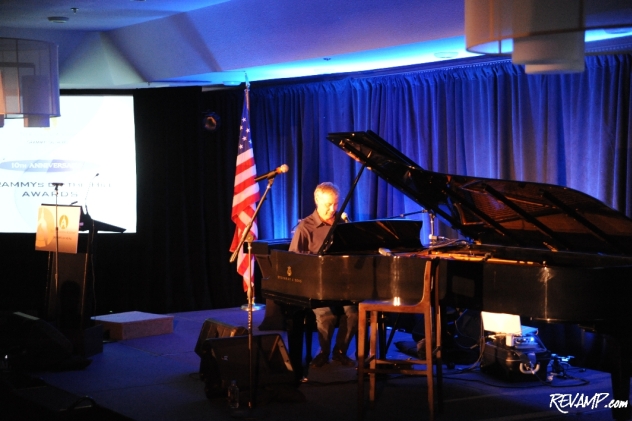 Bruce Hornsby's second performance of the evening.
Earlier in the evening, Henley himself accepted an award from the Academy for his work in advocating for recording artists, songwriters, and studio professionals both within the industry and in Congress. Speaking about his own experiences in protecting his songs, even from his own record label, he joked that, "We went to the school of
David Geffen
. You learn a lot…"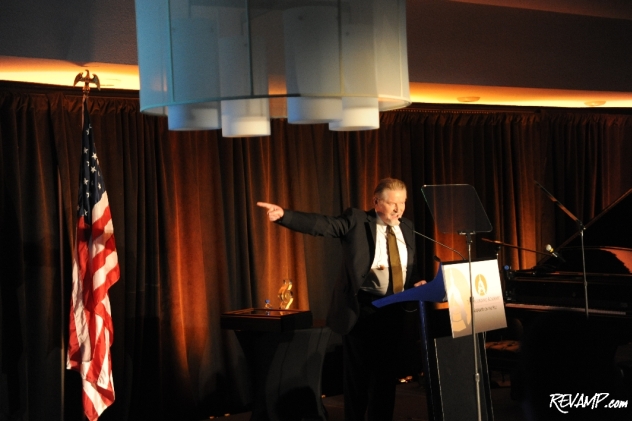 Don Henley comments on the state of artist rights.
As a co-founder (along with
Sheryl Crow
) of the Recording Artist Coalition (RAC), Henley has become the de facto "voice for the voices" in championing artist rights over the last 10 years.
"The RAC…was founded…in response to the fact that recording artists had been subjected to unfair and unscrupulous practices by the record labels and others going back…to the very beginnings of the recording industry."
Henley continued, "Artists have been scammed and swindled, partly due to their own naivety and their lack of business acumen…and we've been swindled also…by having no singular organization…no trade group of our own…giving us a voice here in Washington. It's been an extreme frustration to me to see that most of my fellow artists don't understand…the critical role Washington plays…in the careers and livelihoods of singers and songwriters."
Looks like he finally succeeded in getting to "the heart of the matter"!
**********
To learn more about the Recording Artists' Coalition, please visit the organization's website.