Los Angeles Designer Clay Sadler created five pieces, as part of vitaminwater zero's Flavors of Fashion collection, for this year's Fashion for Paws Runway Show.
PENN QUARTER --
With only one day to go before the
5th Annual Fashion for Paws Runway Show
benefiting the Washington Humane Society, the District's
best fashion and beauty event
is poised to meet its $490,000 fundraising goal for 2011.
While the hundreds of models and volunteers who have spent the past couple of months tirelessly planning Saturday's event deserve the bulk of the credit for this year's success, as does F4P Executive Director
Tara de Nicolas
, significant praise should also be directed at
vitaminwater zero
, who signed-on as one of the show's earliest and largest corporate sponsors.
Not content with mere signage and tastings during the sold-out party, however, vitaminwater zero sought to do something bold as part of its "Top Dog" sponsorship. And the beverage giant's efforts were finally unveiled yesterday during a private press screening of the
Flavors of Fashion
couture collection at the
Gibson Guitar Showroom
in Penn Quarter.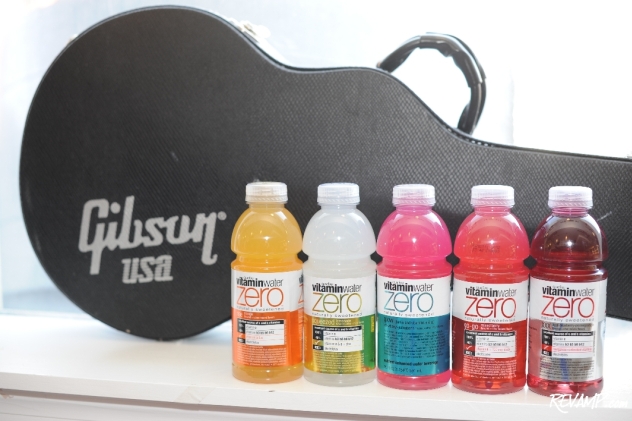 Five one-of-a-kind pieces designed by Los Angeles fashion designer
Clay Sadler
in conjunction with the
Fashion Institute of Design & Merchandising
, the collection was inspired by five different flavors of vitaminwater zero and will be publically revealed on live models provided by
T H E Artist Agency
at tomorrow's runway show.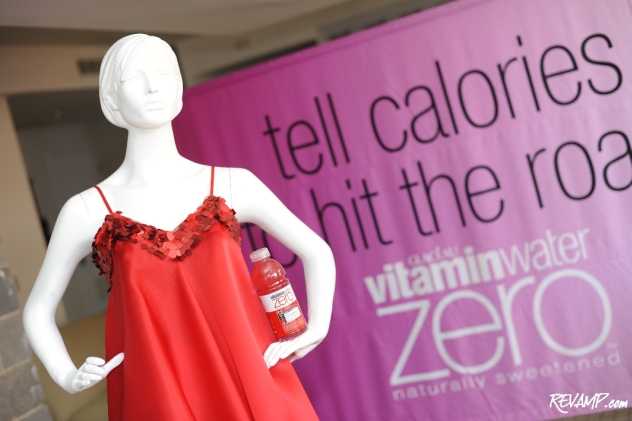 The "Go-Go" flavored dress, while the slimmest and smallest of the collection, actually took the longest to make due to the number of matte finished sequin squares that had to be threaded by hand.
Interestingly, the models all got to choose which dresses they will wear on Saturday night in order to ensure that they themselves are comfortable and having fun, thereby ensuring an enthusiastic representation of the pieces.
Sadler used everything from the liquid color of each beverage to the metallic sheen of the label to the individual motions conjured by the flavor names in drawing inspiration for the various pieces, which took about four weeks each to create.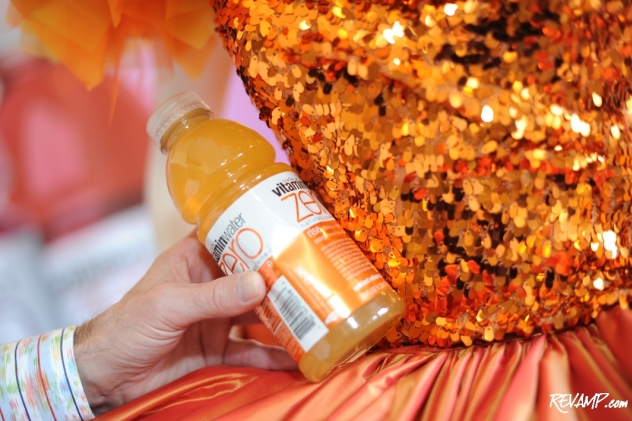 The devil is in the details! Even the color of the square sequins used in each dress was designed to match the metallic tinge of the corresponding bottle labels.
In talking about his creation inspired by the orange "Rise" flavor, Sadler said, "The flavor is an orange. So [the dress] is an orange. But all of the action is rising up from the bottom. So it gets more detailed and more exuberant as it goes up [aka
rises
] and then it has a headpiece that ends up like
Fraggle Rock
explosions."
Colorful couture. #winning.
Fun trivia fact: Every piece in this year's collection will pay homage in some way to the square sections woven into the gown Sadler created for the 2010 runway show. One piece in 2010, five in 2011. We like where this is going…