"Sweet Chic" Author Rachel Thebault and DC Magazine Publisher Peter Abrahams celebrate the rules of fashion...
MAZZA GALLERIE -
Fashion, food, fundraising, and just plain old fun ruled the night at the "Fashion Rules!" Party hosted by
Neiman Marcus Mazza Gallerie
and
DC Modern Luxury Magazine
, as some of the world's greatest designers and one of the District's most delicious restaurants offered up their spring collections and delectables -- all in support of the United Nations Foundationís
"Nothing But Nets" campaign
to combat malaria.
Fashion was everywhere! Guests were met on each level with live models showcasing the newest collections from designers like Versace and Chanel. Had it not been for the lure of the "Louboutin Lounge" on the third level, one may have just spent the night captivated by the walking fashions.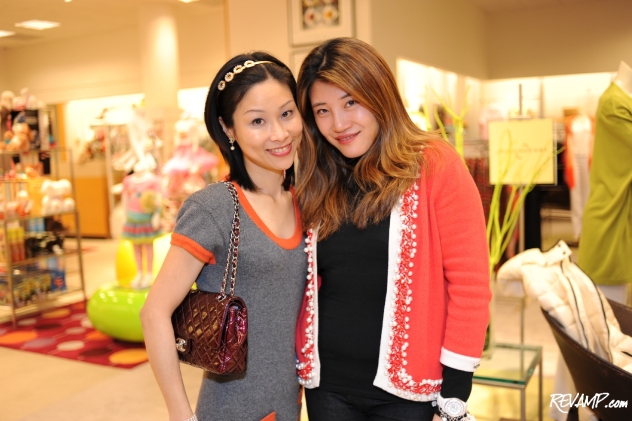 Stylish guests could be found throughout all three levels of the store!
Once in the lounge, however, it was clear why the draw of the signature red-soled shoe is always so strong. The spring collection trunk show offered heels with rockstar metallic spikes, cobalt blue stilettos adorned in sparkles, and even a pair which used a measuring tape as its sexy ankle strap.
All purchases came with a monogrammed shoe bag, and if the tight grips on the sample shoes were any indication, the collection will be a huge success this season.
Food, food, and more food! Level One tasties included chilled glasses of Simone champagne and a trio of treats from
Ping Pong Dim Sum
, which offered a heart healthy spin on our favorite Asian dishes, including gogi berry mango and mint non-alcoholic coolers, three mushroom salad, and jasmine and lily tea.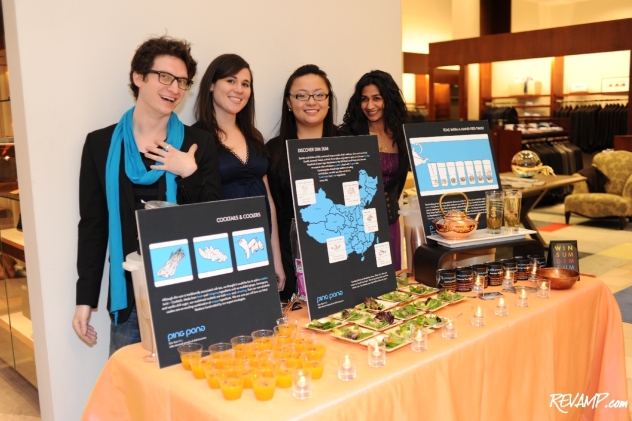 Ping Pong Dim Sumís cheerful staff.
Level Two guests were led to cutesy cupcakes courtesy of the
Frosting
cupcakery and
Ridgewell Catering
provided an array of its dessert mousses, in flavors such as Mango/Strawberry and Lime/Blueberry.
Climbing to Level Three, guests worked-up an appetite for
Dolci Gelati
, a northeast DC shop, which offered refreshing samples of its summer flavors, including Watermelon, Pear and Vanilla Bean.
Fundraising played a large role in the night as the "Nothing But Nets Campaign" collected (optional) donations of $25 from each guest. The donation not only allowed attendees to participate in the nightís glamour games, but most importantly, will be used to purchase two malaria nets for those in Africa who take the term "Buzz Kill", the campaign slogan, in a positive way!
Each net sent to Africa costs approximately $10 in manufacturing and distribution costs and therefore, with all things considered, $25 represents a very small price to pay for such a simple way of improving someone's life. (Be sure to mark April 25th on your calendar as "World Malaria Day" too.)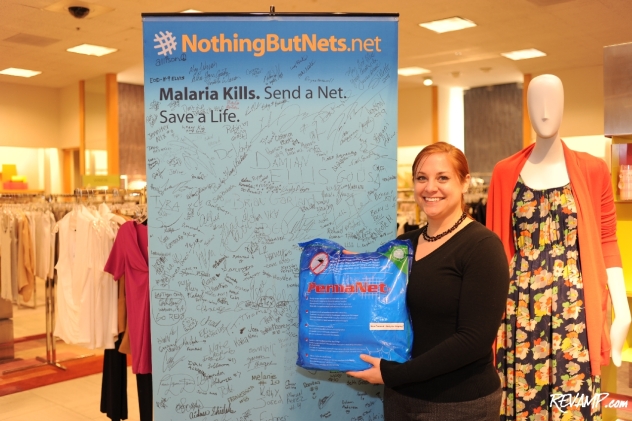 Each guestís $25 donation essentially bought 2.5 mosquito nets for those in need in Africa.
Oh, and the fun!
DJ Neekola
, fresh off her first CD launch, kept the music and the crowd pumping, as she played dance club beats throughout all three levels of the store.
Sweet Chic
author and baker
Rachel Schifer Thebault
, was also in attendance to sign copies of her first book, the subject of which aims to put those intimated by the thought of baking at ease, by comparing the key components of baking to relatable fashion anecdotes.
And just in case that wasn't enough fun, Neiman provided its very own twist on bingo, with a special "Blingo" fashion trivia game, featuring a variety of mystery prizes tucked away in coveted silver Neiman bags. (As a winner myself, I can tell you my bag contained a funky pearl and ribbon bracelet which has yet to leave my wrist!)
To be sure, the glamour of the evening and the importance of the cause were not lost on anyone. ďItís not about opulence, but rather about innovation,Ē said
DC Magazine
Publisher
Peter Abrahams
in describing both his publicationís new editorial focus, as well as the appeal of the event.
All in all, the recipe for a fantastic evening, whether baking is included or not, is fashion and food for a fundraising and fun-raising good time!